How We Transformed Our Basement Into Our Dream Family Room
Photos by Wing @ Canary Grey
Explore our basement's transformation from a plain box room with no design elements to the elevated, timeless family room of our dreams. 
How'd we do it? Using some paint, molding and cozy, kid-friendly furniture made with Sunbrella fabrics that will endure the test of time, both in style and function. You won't even believe that this is the same room!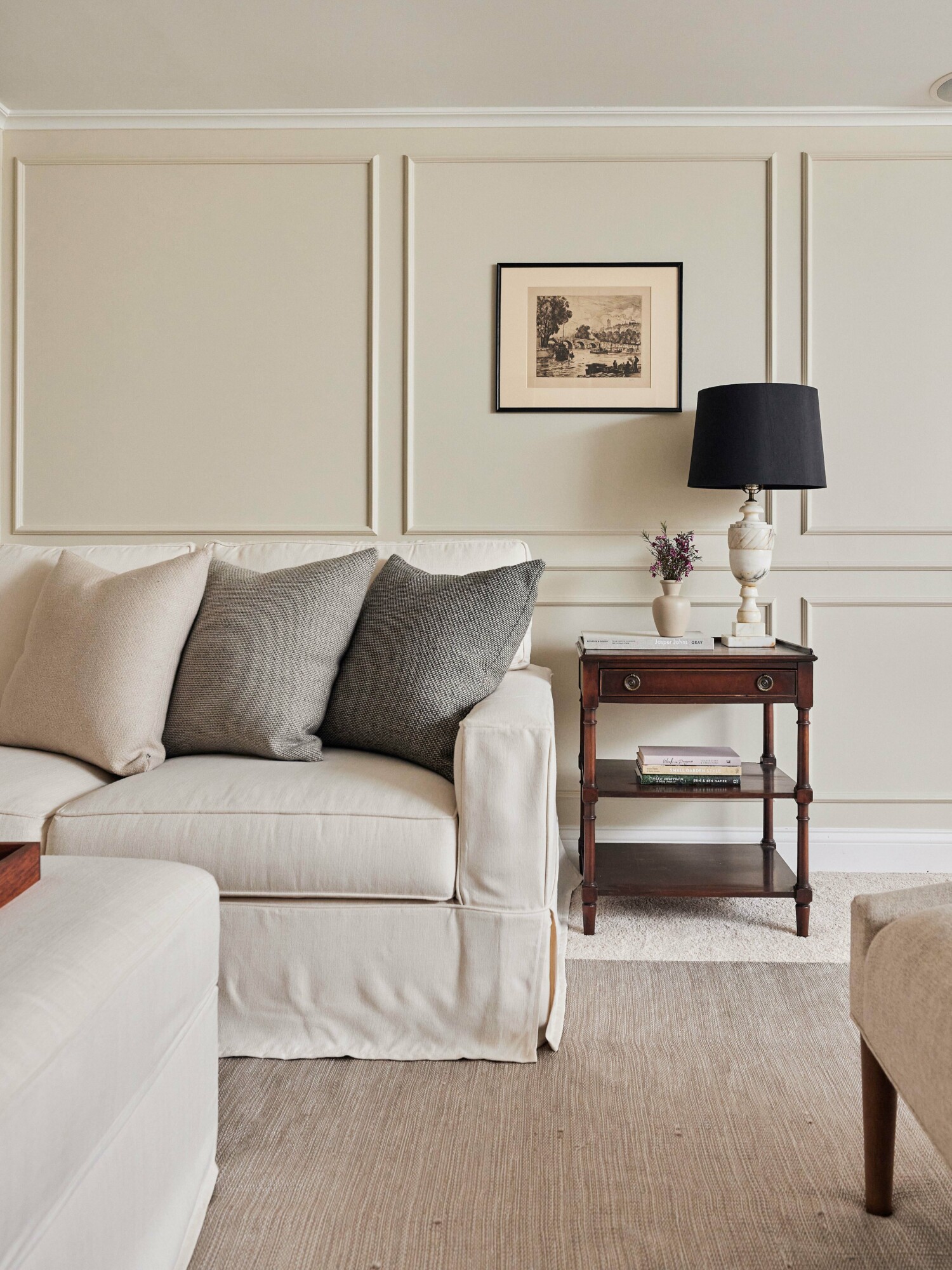 I used to rarely take pictures of our family room. There are a couple of reasons for that. The biggest one? We don't bring our phones down there. This is a space we use for play and relaxation, and we try to be intentional about those things in the Wagner household. So, when we spend quality time down there, we leave our phones upstairs. And honestly…it's a really nice break!
BEFORE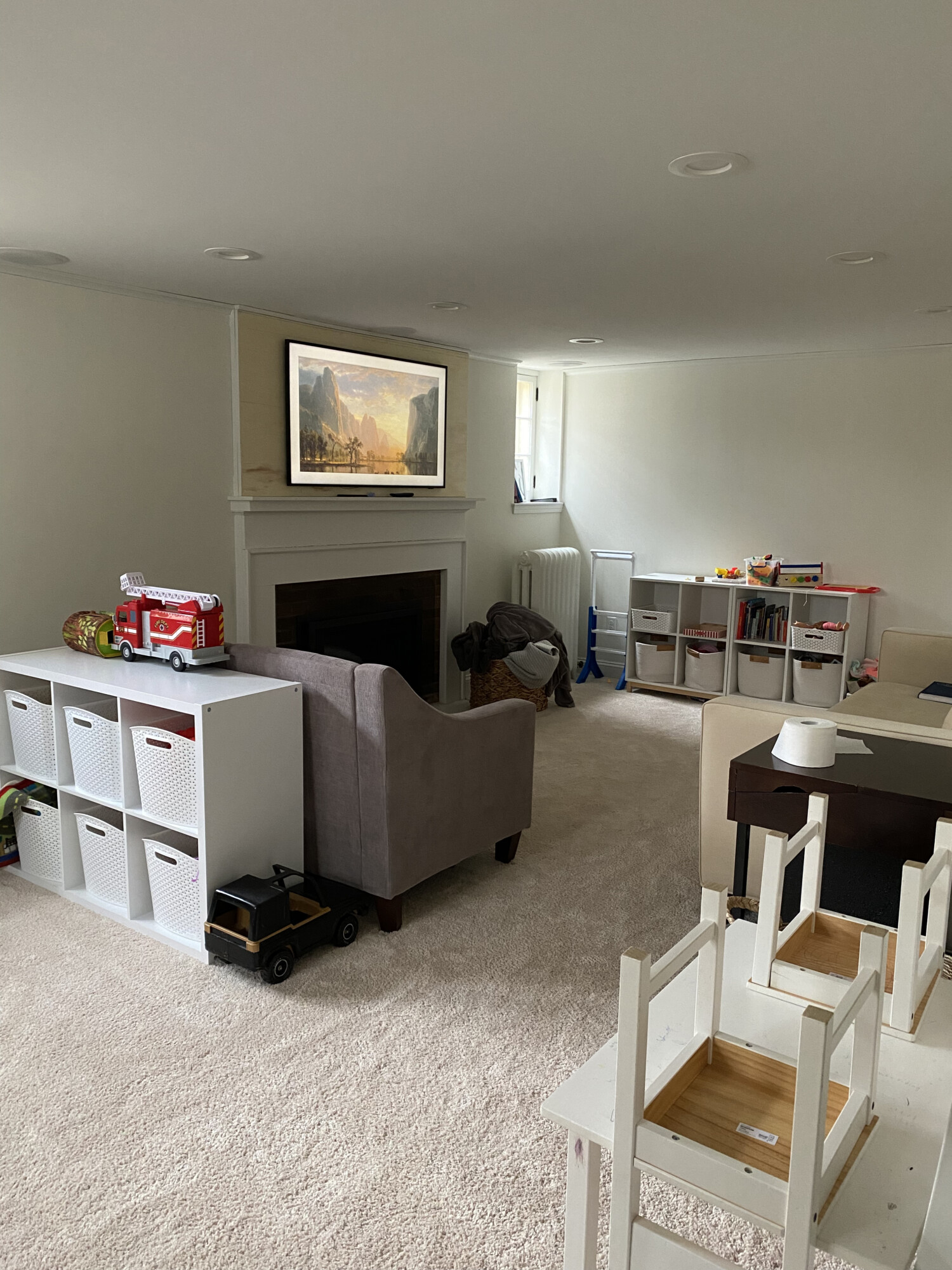 If you've been following along on Instagram, you know that our family room is in the basement. It's always been the most relaxed part of our home. It's the only room with a tv, and we love to watch movies down there with the kids. There's nothing cozier than a family movie night on a cold Minnesota winter evening.
Between the tv, all the kids' toys, and our trusty beverage fridge, this room is never lacking in entertainment or respite from a hectic day. It's the best room for unwinding and blowing off some steam. The kids could go absolutely bananas because they knew it's not the place where Mommy's nice things live.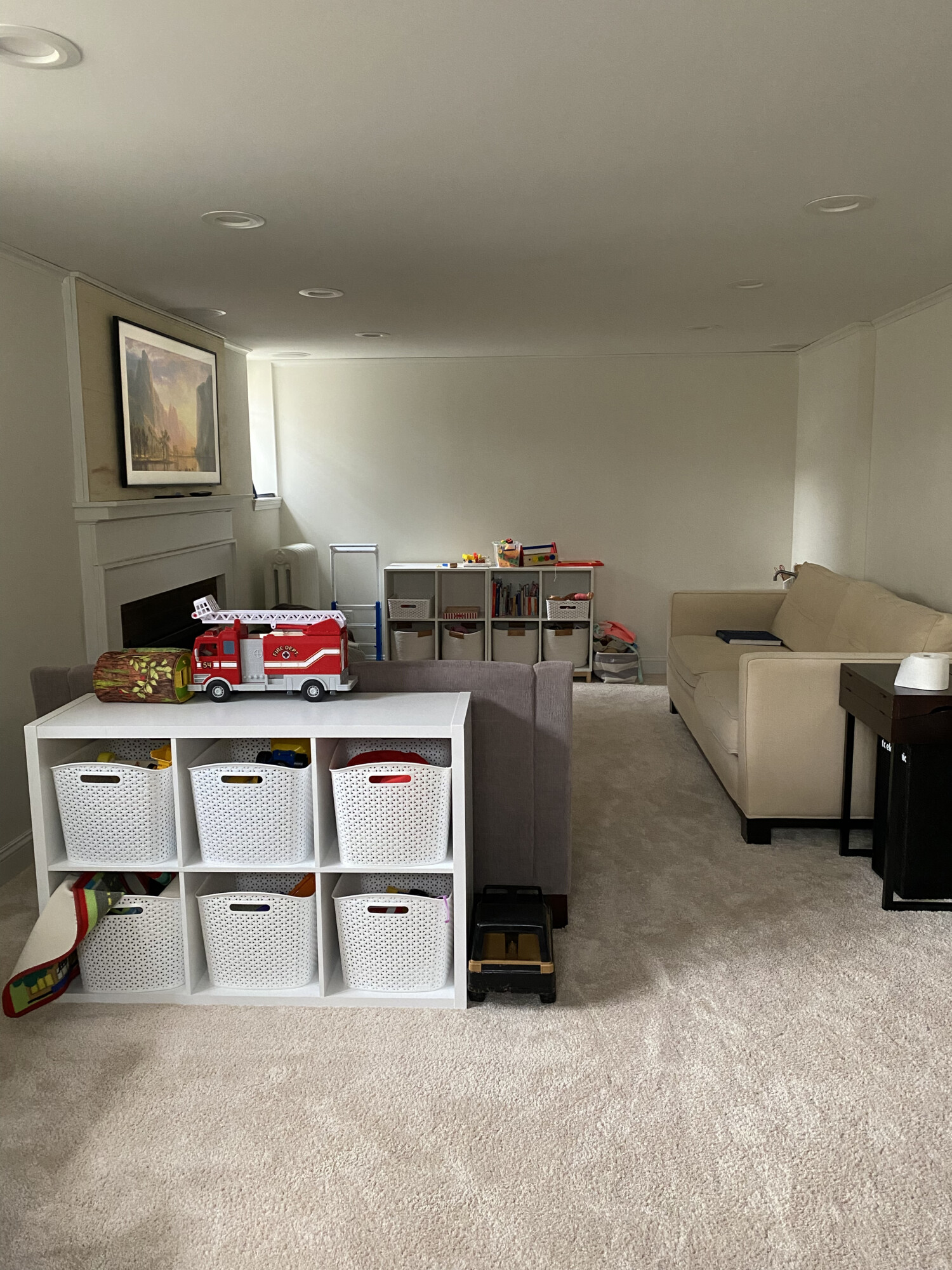 Which brings me to the next reason I rarely take pictures of this room.
Until recently, it hasn't been that aesthetically pleasing.
We finished out our basement space about 8 years ago, but in all that time, we've never taken on the project of designing it to our taste. With the chaos of raising 3 young kiddos, renovations to our rental properties, and bringing together the design elements of the more visible parts of our home, the basement family room never made it onto our priority list.
Also, it's nice to have a room we don't have to worry about messing up. With a lot of our upstairs furniture, we don't let the kids jump on it or be all over it after playing outside and getting dirty. But in our family room, the former couch was a second-hand, steal-of-a-deal piece, the back counter was a collect-all for junk, and there was never a time that you didn't see at least a handful of toys scattered about. You can't really mess up what's already messy.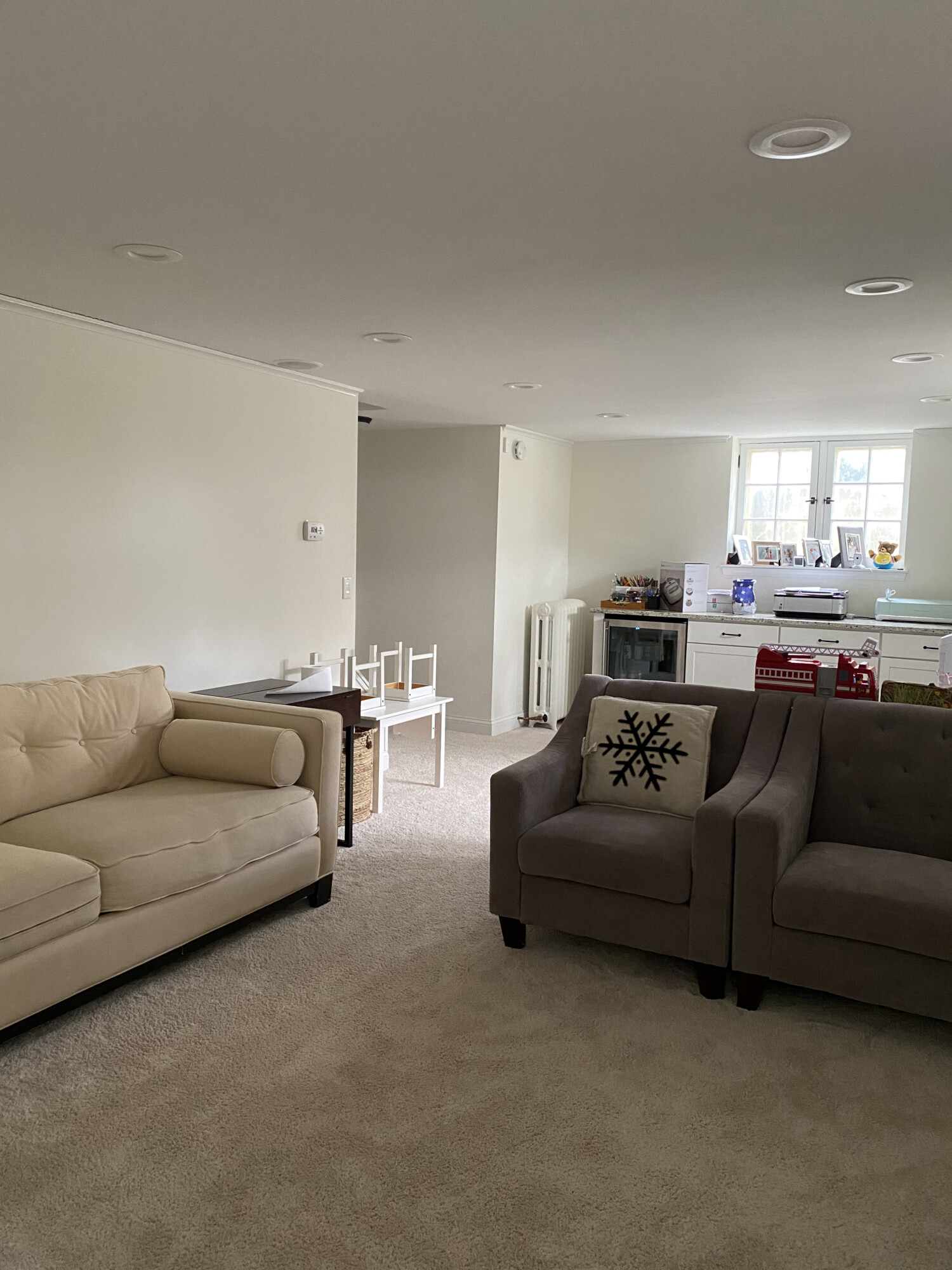 Up until now, this had worked. While we were grateful to have scored the couch for just $100, its fabric wasn't durable nor stain-resistant. I was getting tired of scrubbing juice and after wet-mushed-goldfish-cracker stains, out of it. My kids are 4, 6, and 9 years old, so spills are going to happen, but I began to feel my designer's itch to beautify the space and make it more our style.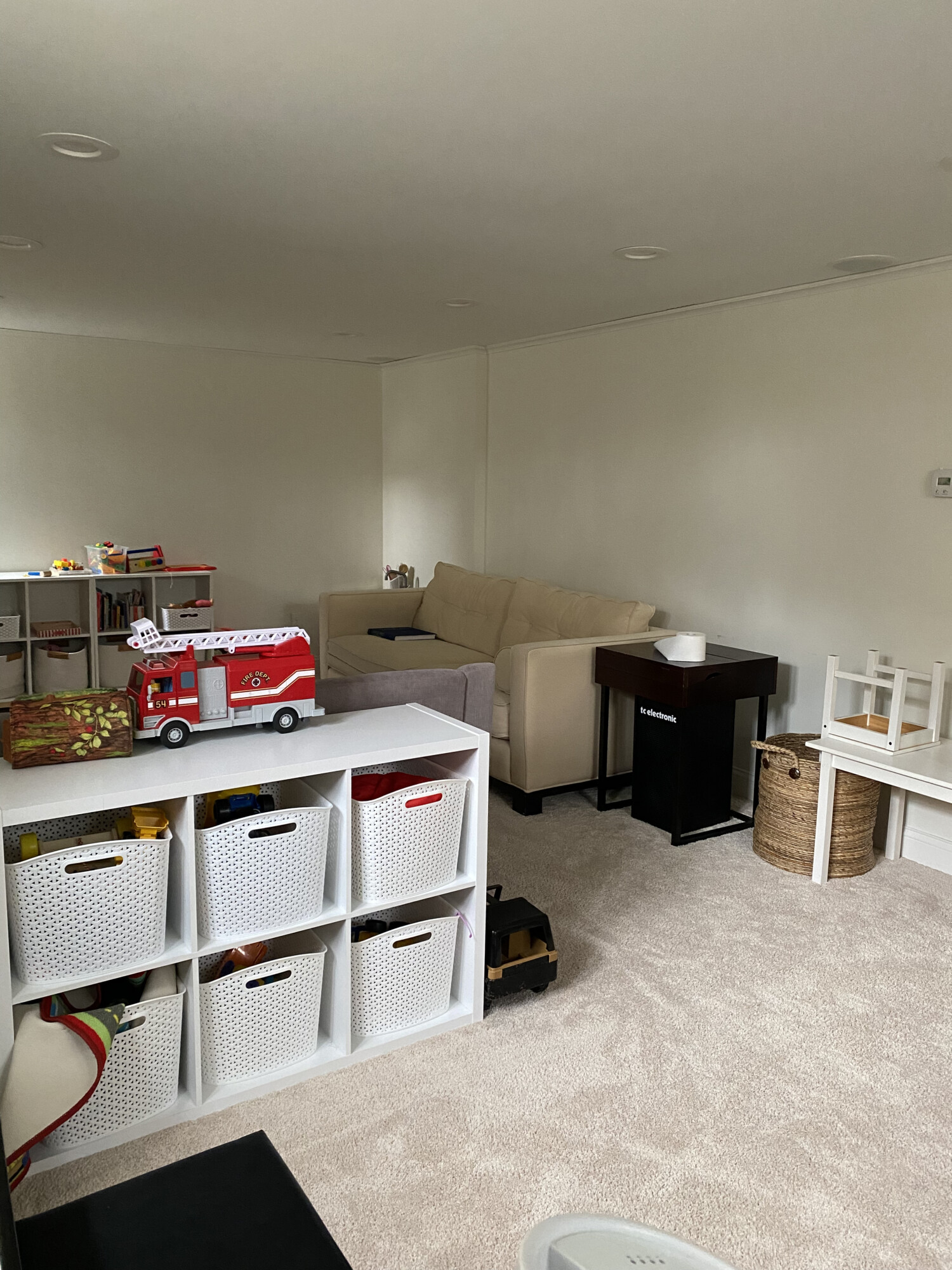 Brian and I always knew that eventually we'd want to upgrade the basement family room and make it cohesive with the rest of our home. So we started to dream up some ideas, see my design board here.
The rest of our home is rich in character from 1920's architectural elements, and lovingly curated with my favorite classic timeless pieces, but the basement family room was kind of just a plain white shoebox. High in function but void of personality. Free from both worry and inspiration.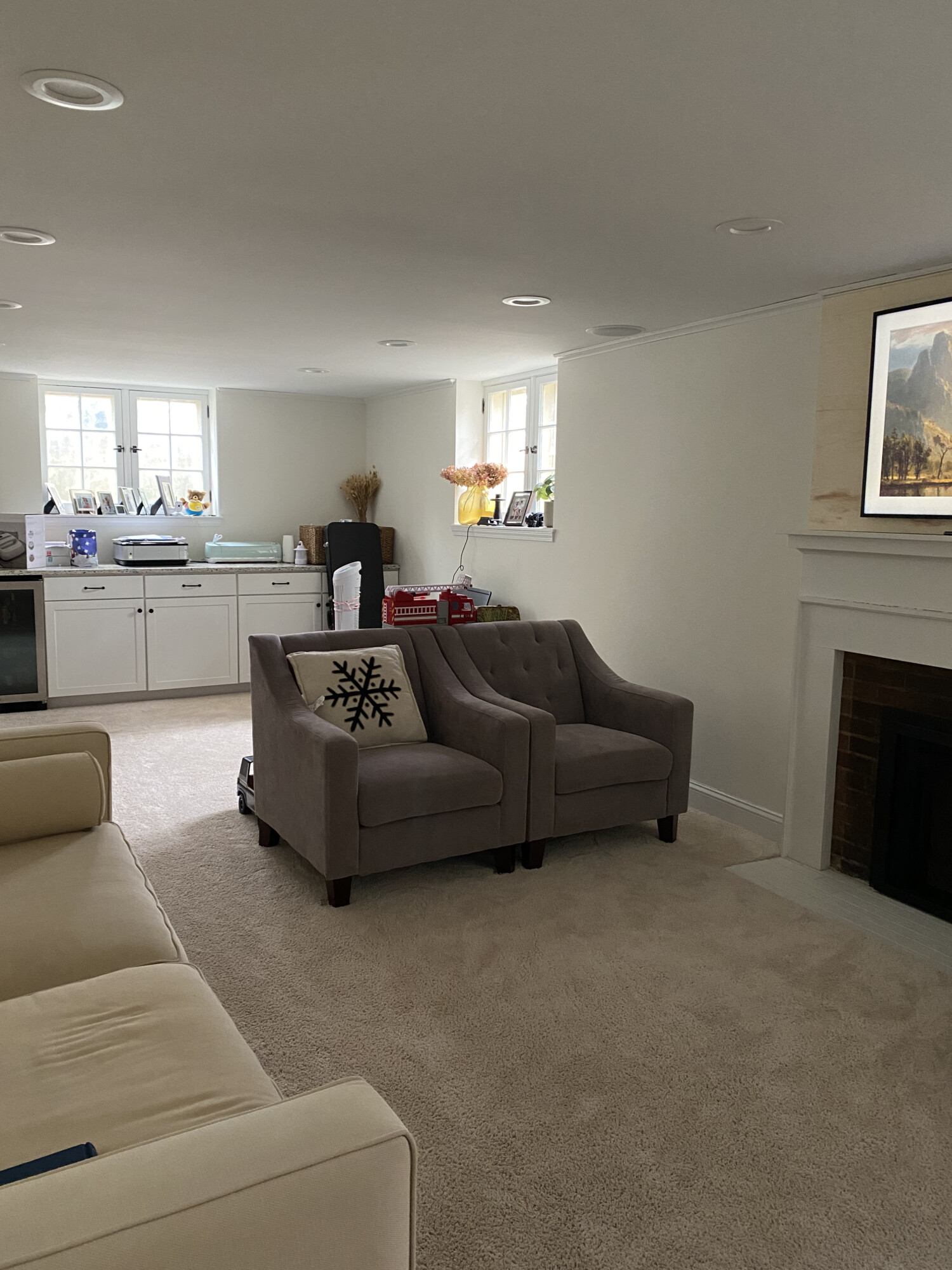 And now that our youngest is 4, and officially phasing out of toddlerdom (tears!), we felt the time was right to give our family room a much-deserved makeover. We love this room for all the sweet memories it has given us over the years, and we figured it was time we gave it some love back. With exciting possibilities energizing us, we started planning and decided to split the room into 2 main areas:
Entertainment/movie area 

Playroom/craft area 
We started with the entertainment/movie area which is the focus of this blog post. We wanted to enjoy our regular activities down there, while also being surrounded by a beautiful space we love. With this in mind, we came up with 3 main goals to accomplish. I couldn't be happier with where we've landed, and I'm so excited to show you this transformation!
Basement Family Room Update Goal #1 —
Maximize the space with the use of wall molding
In order to distract from our low 7' ceiling, we decided to incorporate wall molding. I've been wanting to try wall molding in this house for forever, but the right opportunity had yet to present itself. The family room makeover was the perfect chance to test our hand at this.
PROGRESS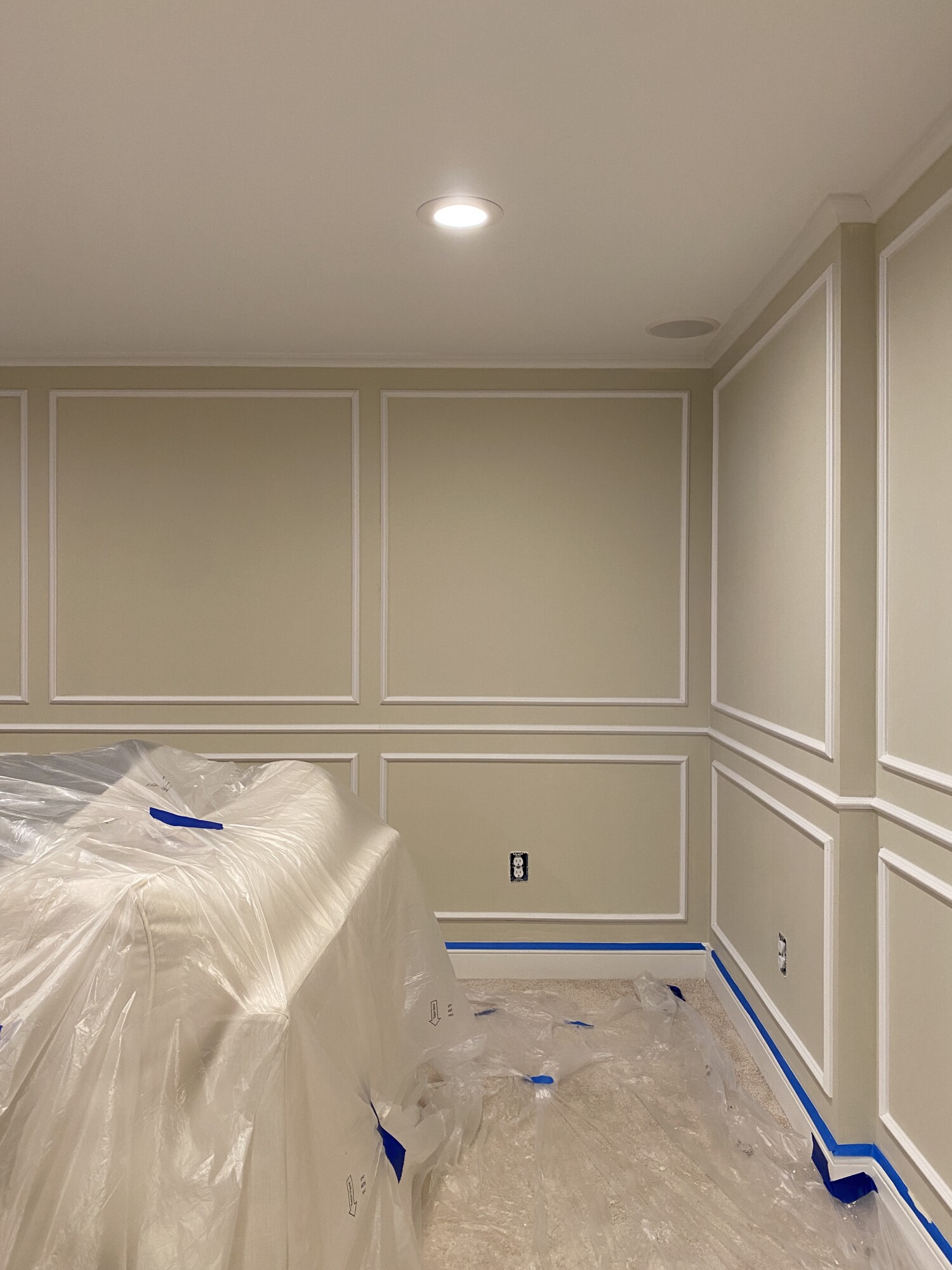 Design experts advise if you have low ceilings, go with a narrow vertical box column. This is supposed to create the illusion of a heightened ceiling. However, after spending quite a bit of time mapping out 5 different options with thin blue painter's tape, Brian and I ended up rebelling and choosing a square box shape with chair railing. It was our favorite and we went for it! 
You can see pictures of the different molding designs we tested out, as well as the stunning images I referenced for inspiration here. *Note that we mapped out the molding with tape first before painting. Then after we painted, we installed the molding.
Basement Family Room Update Goal #2 —
Counter the effects of little natural light by choosing a warm, soft, paint color
I love dark and moody colors, but after testing out multiple paint swatches in different areas of the room, it became clear that we needed to choose a lighter one.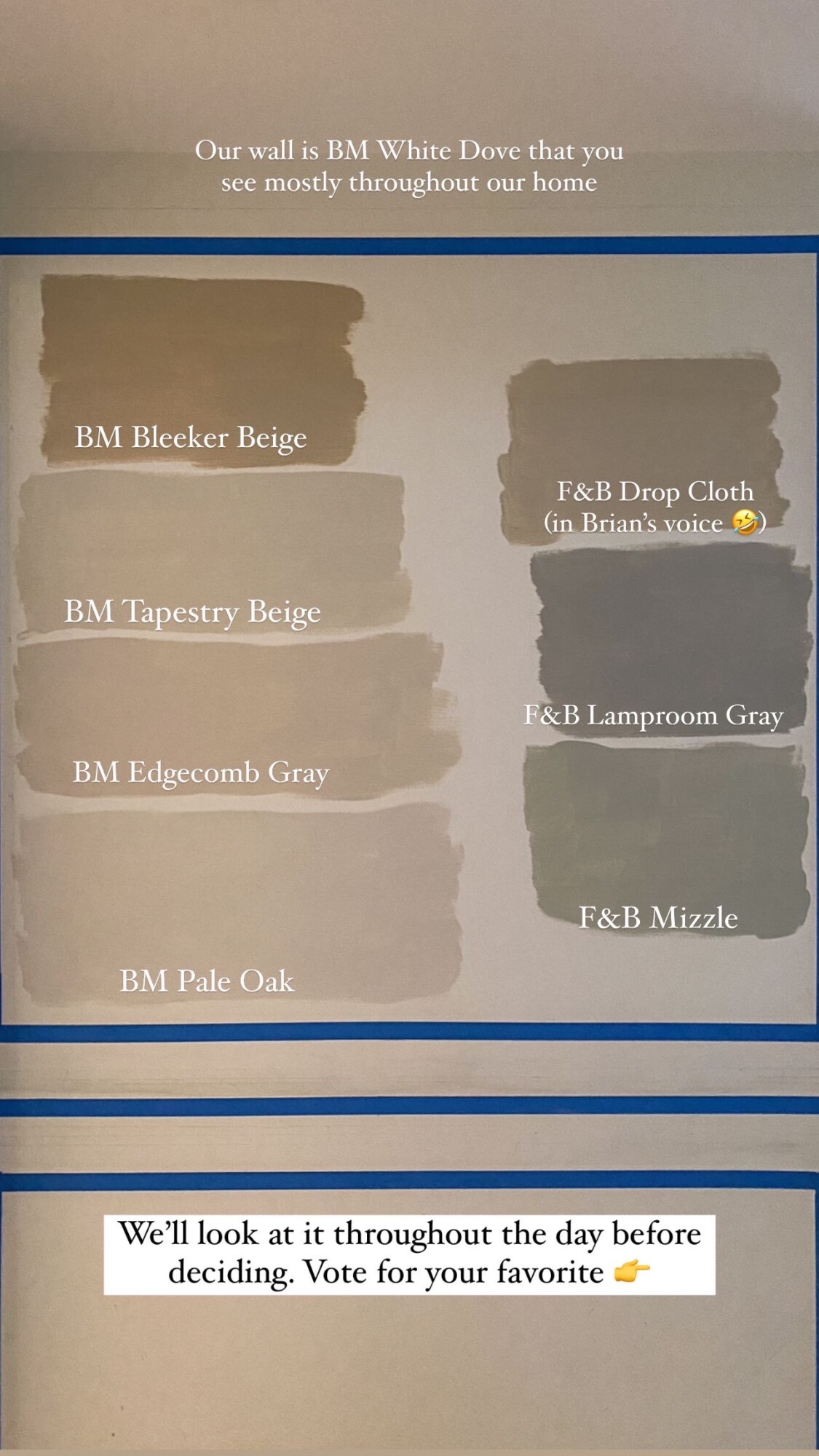 We started with 7 different options. We painted them in good sized swatches on different walls and looked at them throughout the day as the sun shifted. You need to see how artificial and natural light hits each color, to get a more accurate idea of which one best suits your space.
Due to the limited amount of natural light coming into this room, the colors that had a brown base were looking too muddy. If you want a little chuckle, check out my Instagram highlight stories labeled "Family Room" to see what the kids thought it looked like.
Benjamin Moore "Tapestry Beige" was the winner! Benjamin Moore "Pale Oak" and Farrow & Ball "Mizzle" were really close seconds.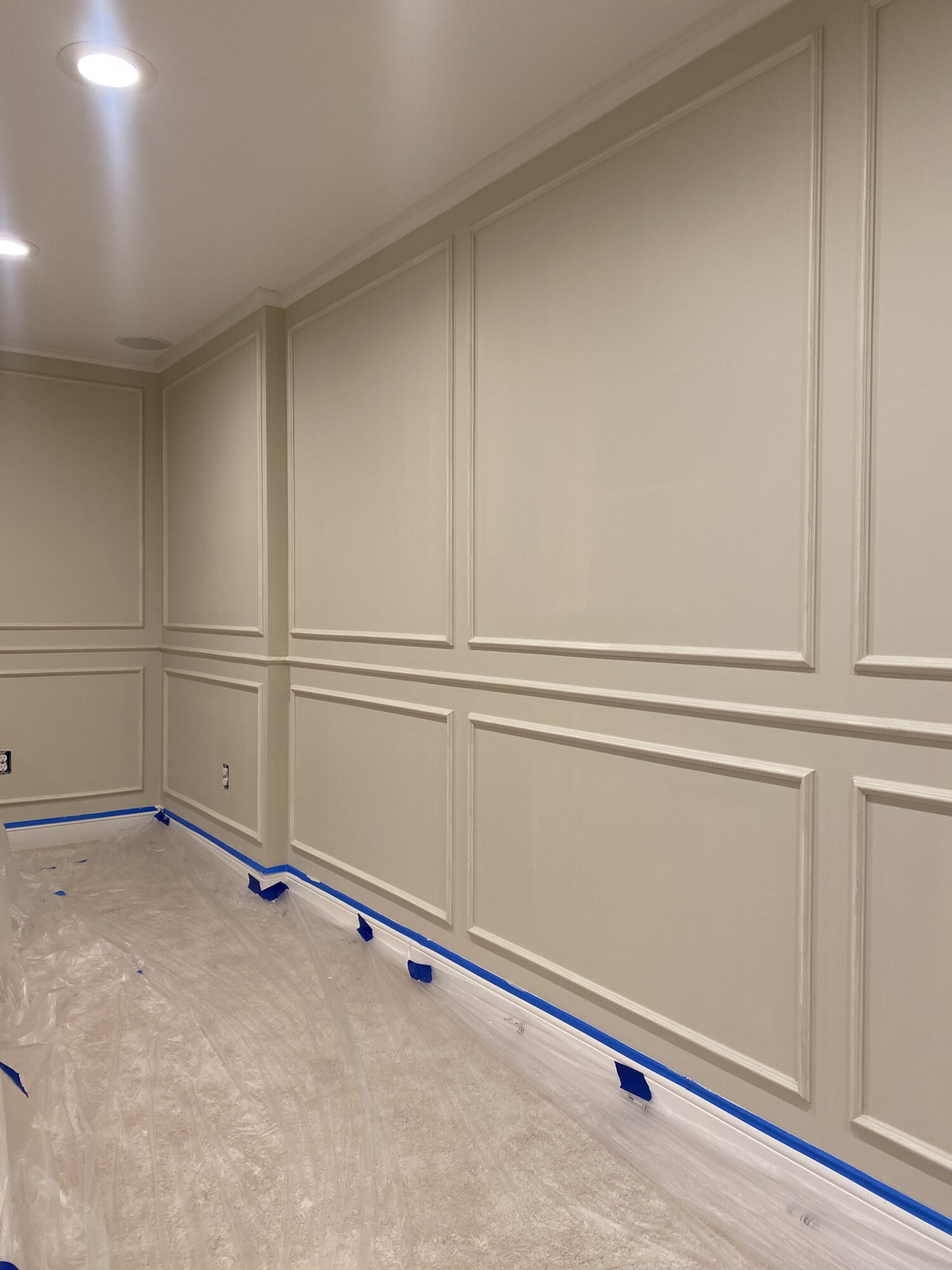 Basement Family Room Update Goal #3 —
Keep the space family-friendly with the use of worry-free Sunbrella Fabrics
The last thing we wanted was for our beloved family room to become stuffy. We don't want the sweet memories of snuggling to movies as a family, eating popcorn while enjoying our beverages and laughing as we play with the kids, to evolve into, "Let's not touch that please!" and "Not on the new sofa!" That's not fun for anyone. Who wants to take on the task of a family room transformation, only to have the end result be one that you can't really enjoy? (No one.)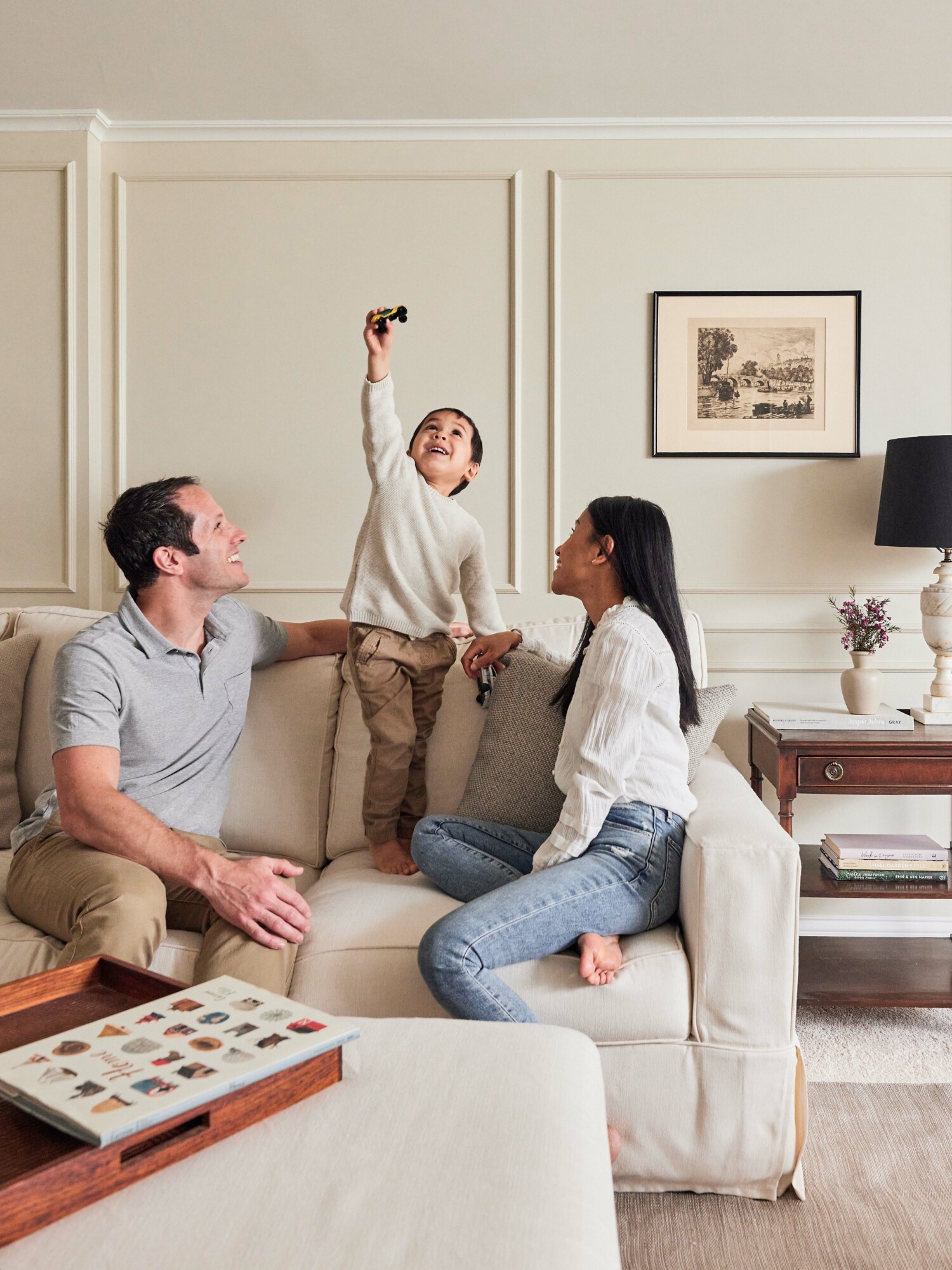 I needed a way to keep things kid-friendly, while also upleveling the décor. So, I was thrilled for another opportunity to partner with Sunbrella.
If you're updating a family room space where comfortable, long-lasting, stain-resistant and easy-to-clean fabrics are top of mind, I highly recommend checking into Sunbrella fabrics.
Furniture made with Sunbrella fabric is available at many retailers, allowing you to select a Sunbrella fabric for your custom piece. I browsed through classic and lush Sunbrella fabric sofas, and saw tons of inspiring variations of colors and textures. Think classic style meets the ultimate trusted brand in fabric durability. It's a match made in heaven. Literally!
The very first piece we selected is this Pottery Barn Square Arm Slipcovered Sectional with Sunbrella Performance Sahara Weave fabric in Ivory.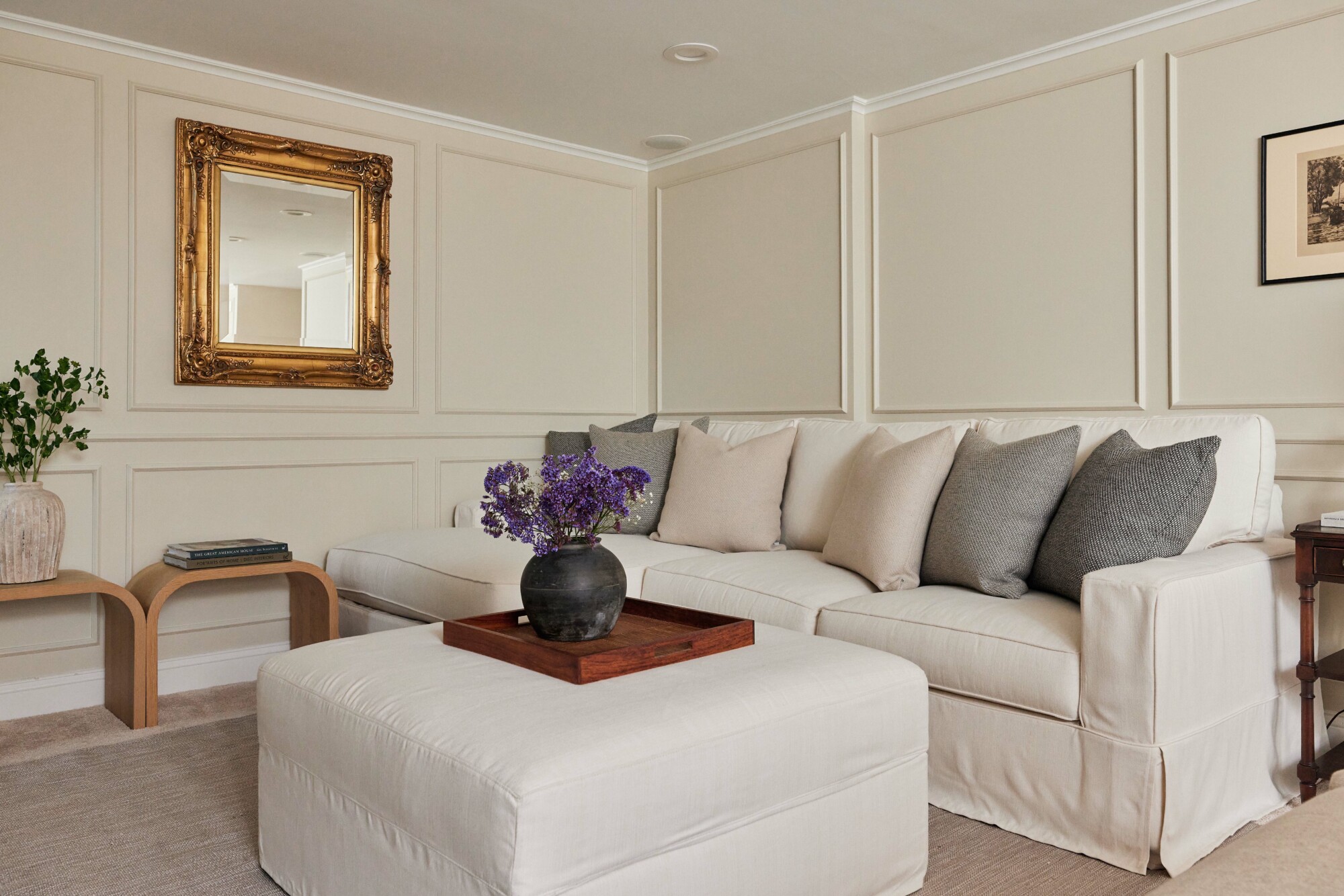 We're so happy to own our very first sectional! Our old couch was small, and didn't fit our whole family at the same time. We wanted a sofa that allowed everyone to snuggle together but not too oversized for this room, so the 110.5″ width sectional was the best choice. It actually got delivered eight months ago and we've been enjoying it since. Instant increase in cozy vibes and the Performance Sahara Weave didn't disappoint. This incredibly soft fabric is such high quality.  So far, we've been able to wipe away drink spills and blot out a marker stain caused by someone (ahem Jack). Did I mention it's also removable! Which means, easy to wash when the time comes.
Next, we chose this Pottery Barn Jake Modular Ottoman with Sunbrella Performance Sahara Weave in Ivory. 
This piece checks all the boxes and then some. Since comfort topped our list, we knew we'd be going with an ottoman instead of a coffee table. We love having the additional seating, surface space for puzzles and this one came with the added bonus of storage.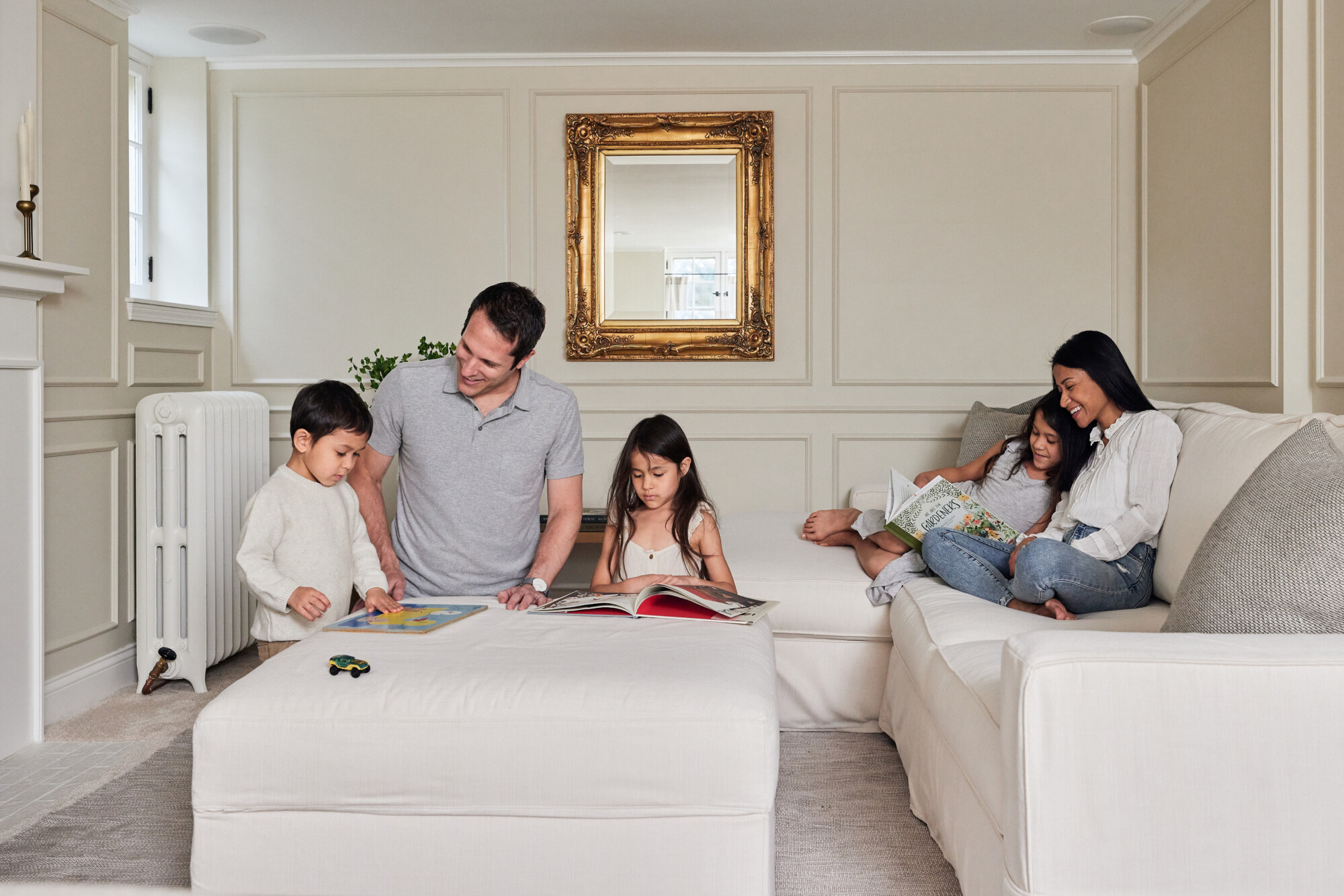 After getting our central pieces for our family room makeover in place, we needed to figure out our secondary seating piece, and an easy-to-clean, stain-resistant rug.
We decided this beautiful Mitchell Gold + Bob Williams Bella Bedroom Sofa with Sunbrella Performance Textured Two-Tone Linen in Taupe would create the perfect balance of style for this room. 
Our sectional has a more casual feel, and this settee adds the perfect graceful touch. It's kind of like when you pair nice gold jewelry with a casual white fitted tee. The jewelry elevates the white tee and together they create the perfect balance of class and comfort.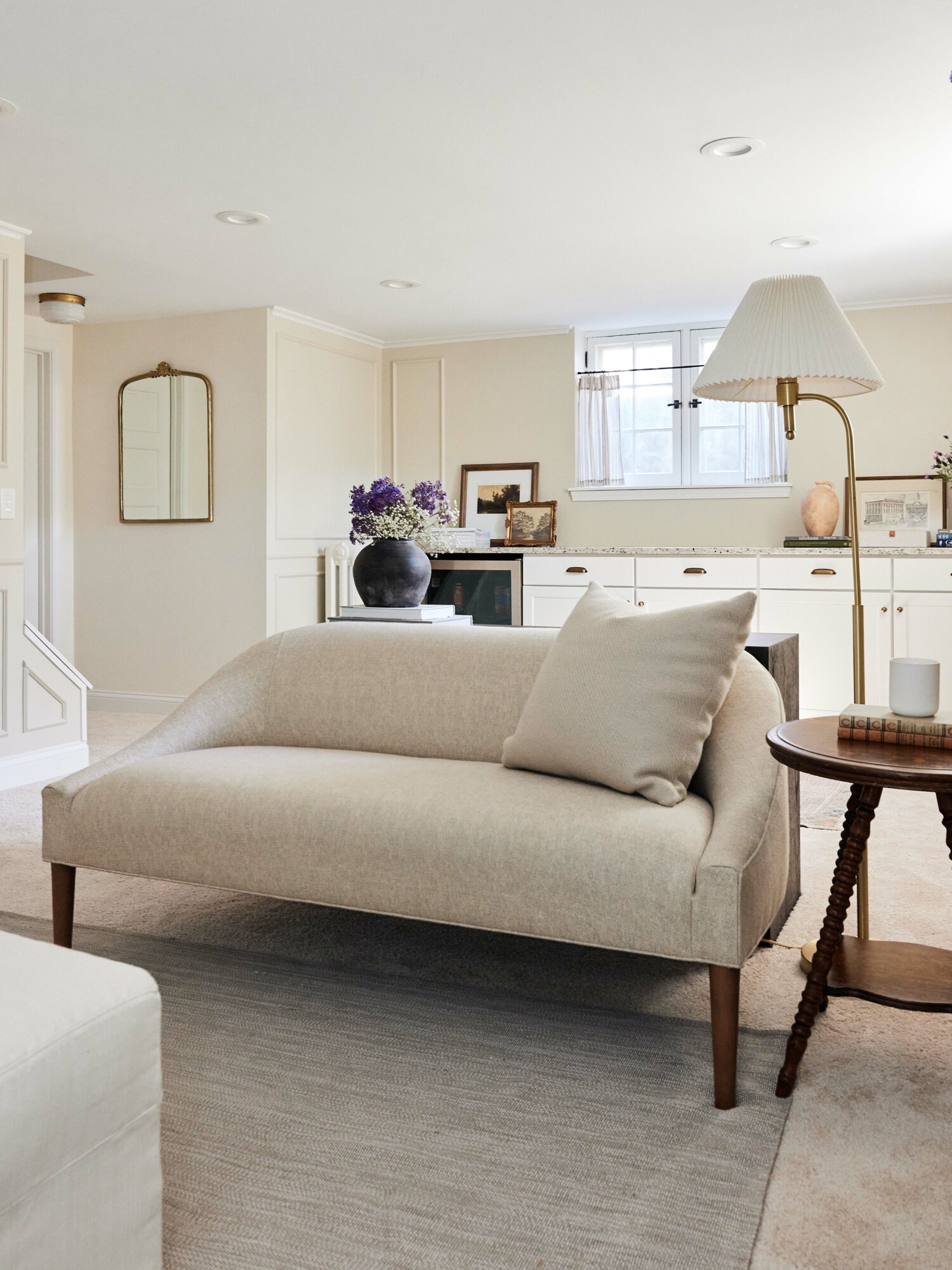 For our rug with high expectations, we went with the MGBW Acadia Sunbrella Flatweave Rug in Sand. Not only does it beautifully anchor the space with warmth and won't annoyingly curl up, but the fabric gives me such peace of mind. No more worrying about spills or stains. Plus, we love the way adding a rug — even on top of carpet! — adds depth and an extra cozy style element. 
Next it was time for one of my favorite finishing touches – pillows. 
We definitely wanted to stay the course with trusted Sunbrella fabrics, so I was ecstatic to find the perfect pillows at Sien + Co, in shades that have the warm, classic look we're going for.  It's been so fun to mix and match them – look at the gorgeous colors of these pillows!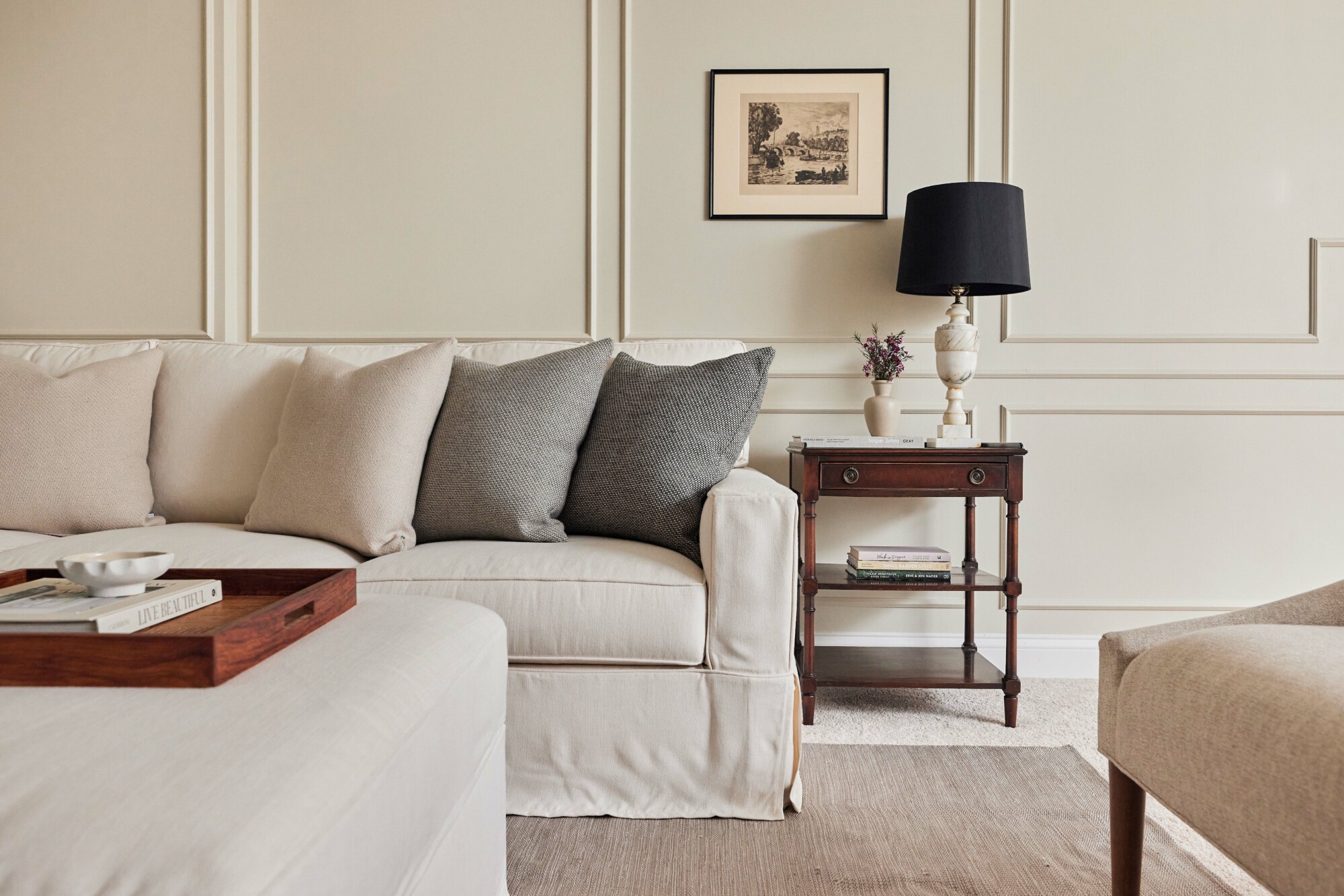 CESTA COAL | CESTA LINEN | SIERRA DUSTY ROSE | CESTA SMOKE
I had so much fun picking out every single one of these pieces. Which detail is your favorite? I'd love to read about them in the comments.
Thank you for following along with us as we give our basement family room a much-needed makeover. Be sure to stay tuned for part 2, where we tackle the kids' playroom/craft area. I can't wait to show you what we've got up our sleeves for that!
Our family room has always been the place we can all come together, but now that we've increased functionality and infused it with the style we love, we're able to enjoy it even more than we already did.
It's the same cherished room….just a little sweeter.
This blog post is in partnership with Sunbrella. 
Sweetest Regards, Patti