How We Found Guidance on Our Living Room Makeover
This post is a sponsored by Modsy but all opinions are my own. You can try them out for 20% off design packages (not including Luxe) using code PATTI20. I used the Premium package and was very happy with the service provided. You don't want to miss the direction we are headed for our living room!
We've been talking about re-doing our living room forever and finally pulled the trigger earlier this year! I put a style guide together, we discussed layouts, sold off furniture and have had many late night conversations about our vision. So many possibilities…
I have a degree in interior design, worked in both residential + commercial design firms and have designed our rental spaces like this one. However, when it came to our own living room, I've been a bit paralyzed with decision making and time constraints. While my style guide was a great starting point, there were moments of tension when Brian was unable to visualize certain aspects of my design vision for this space and there was no way that I was going to find time to photoshop my ideas. I'm pretty sure this kind of tension is common between couples when it comes to home & design.
Which is why Modsy was such a great resource for us.  They helped me and Brian come together on a design plan and got us closer to finishing up our living room makeover. Modsy is an online interior design service that delivers highly realistic 3D designs of your exact room filled with shoppable pieces of furniture from top retailers – so you can virtually "try on" products and designs before you buy. How amazing is that??? Keep on reading to get a glimpse of where we're heading for the living room!
Our Living Room Floor Plan: Built in 1927, our living room has great windows and French door but it comes with a challenging layout with its long rectangular shape and further complicated by the placement of fireplace and openings. Our two main goals were 1) get recommendations on furniture pieces that would collectively come together and 2) recommendation on the most ideal layout.
BEFORE PHOTOS (CLICK THROUGH SLIDESHOW)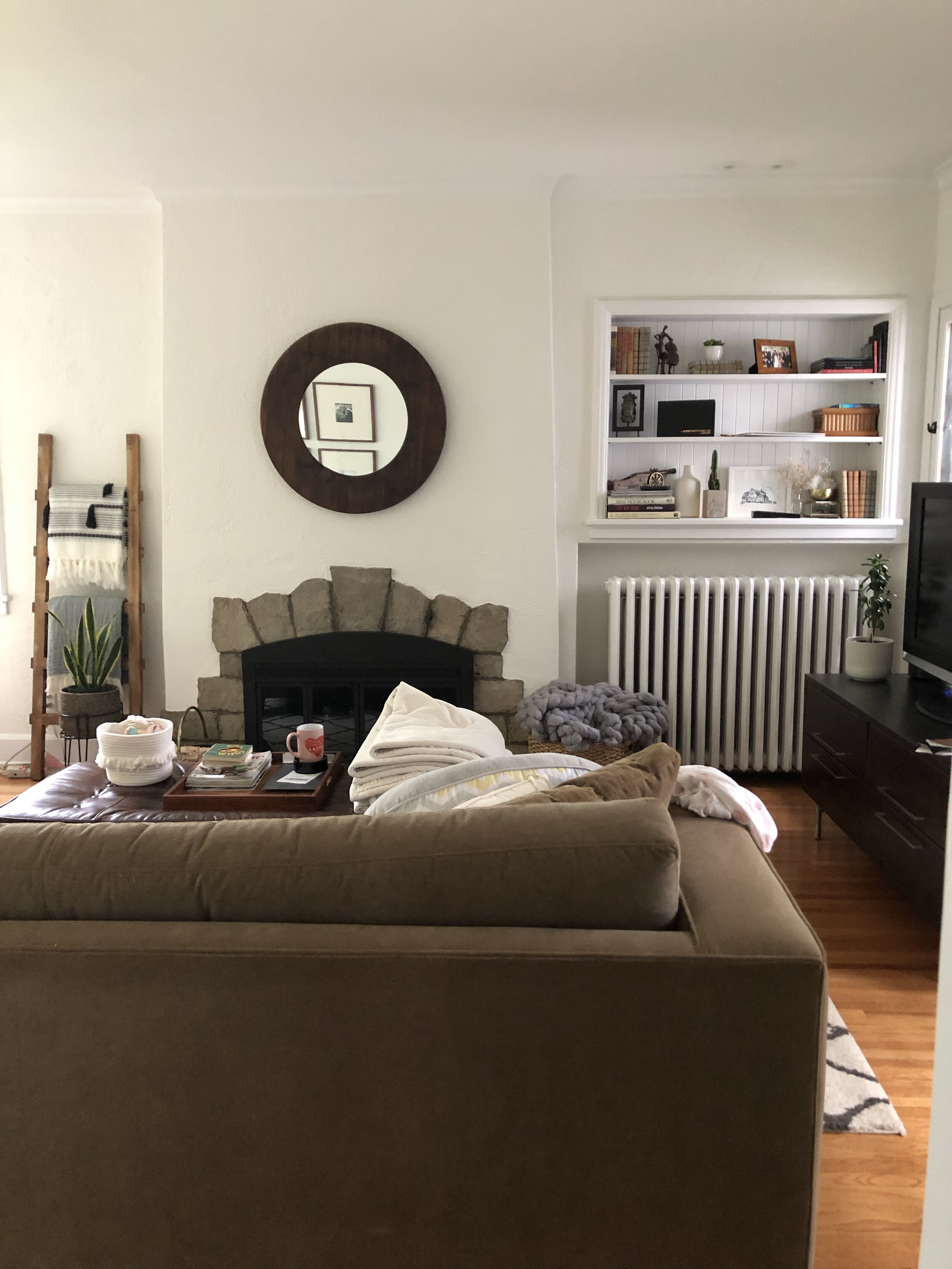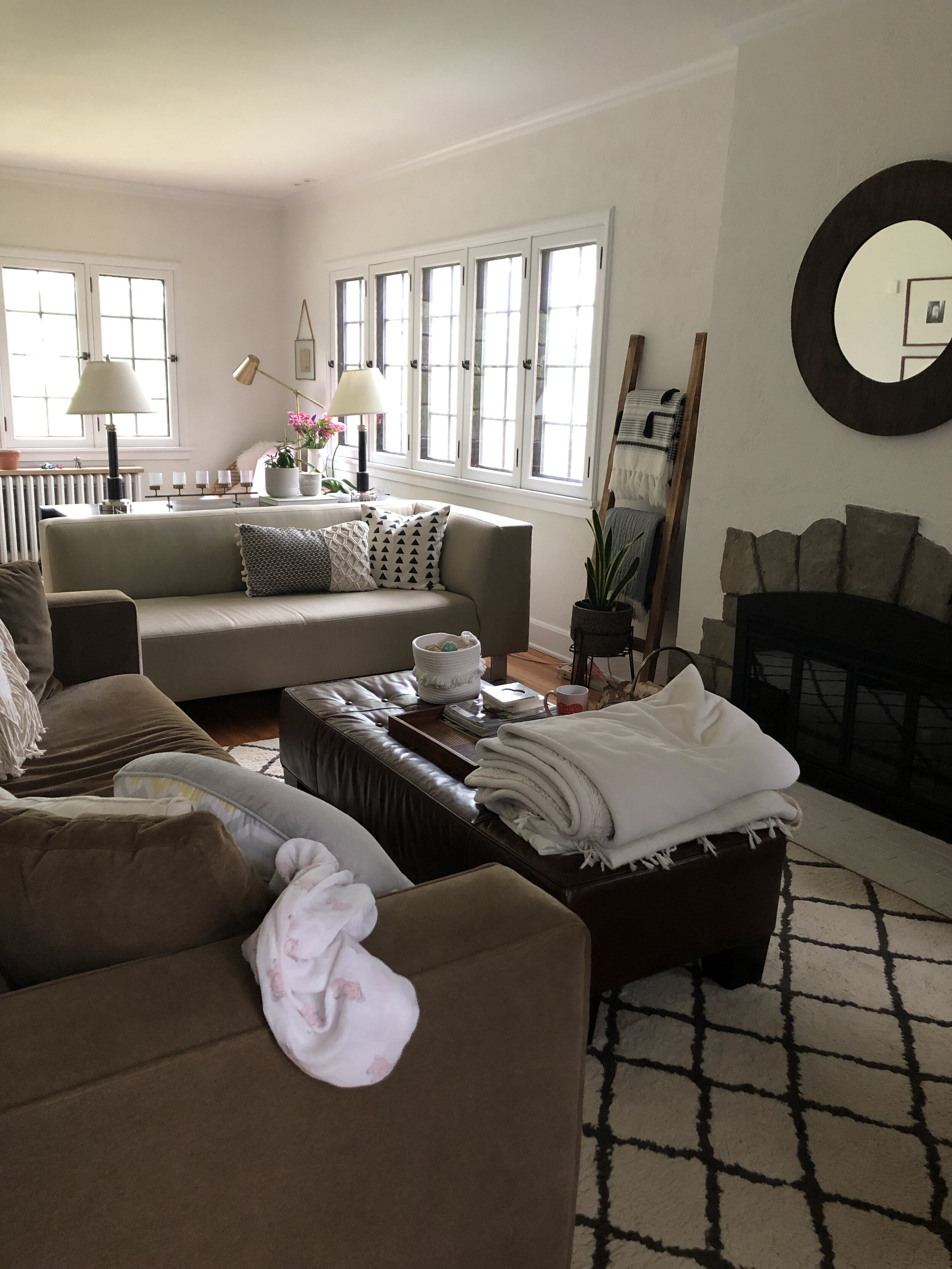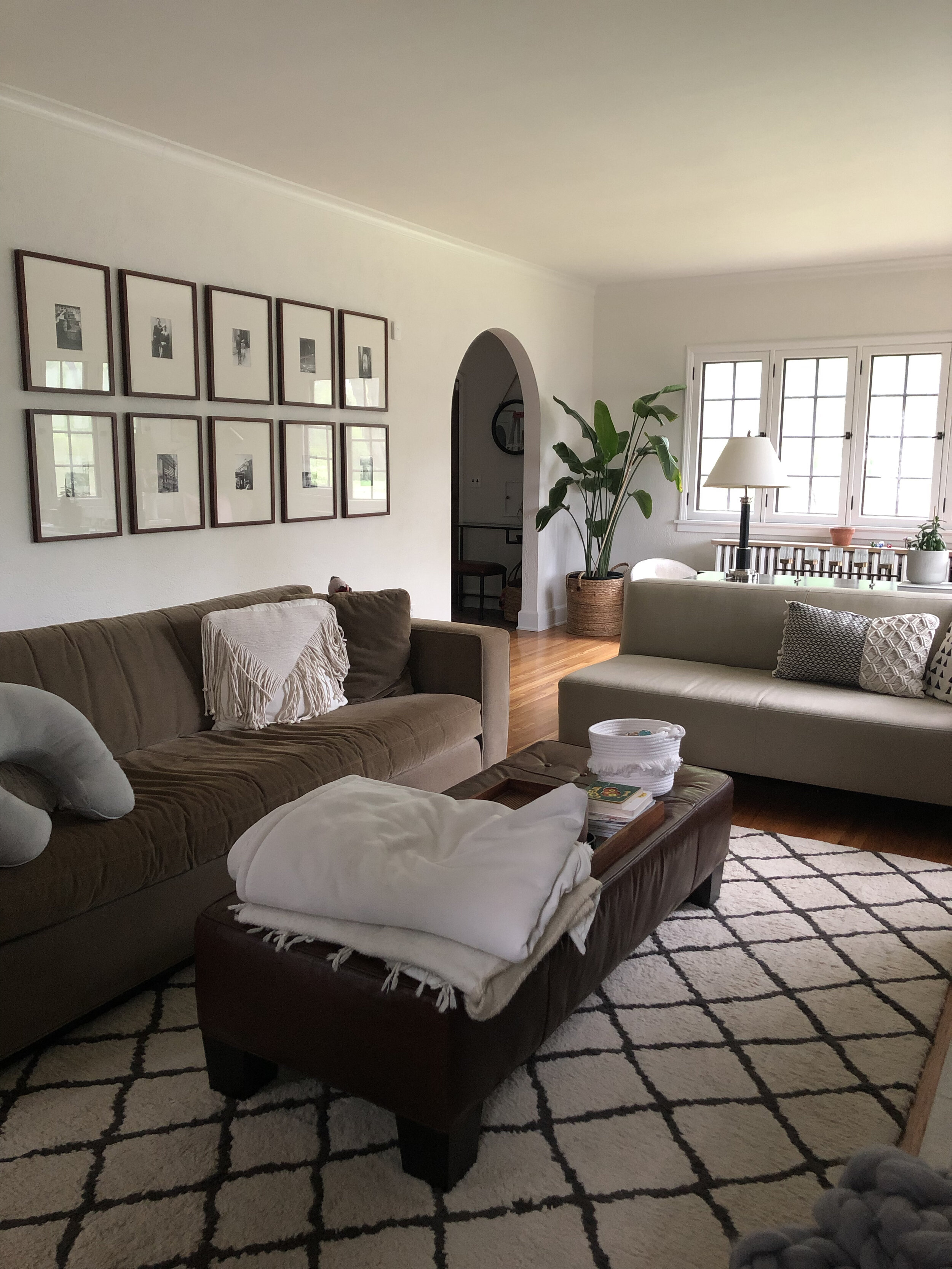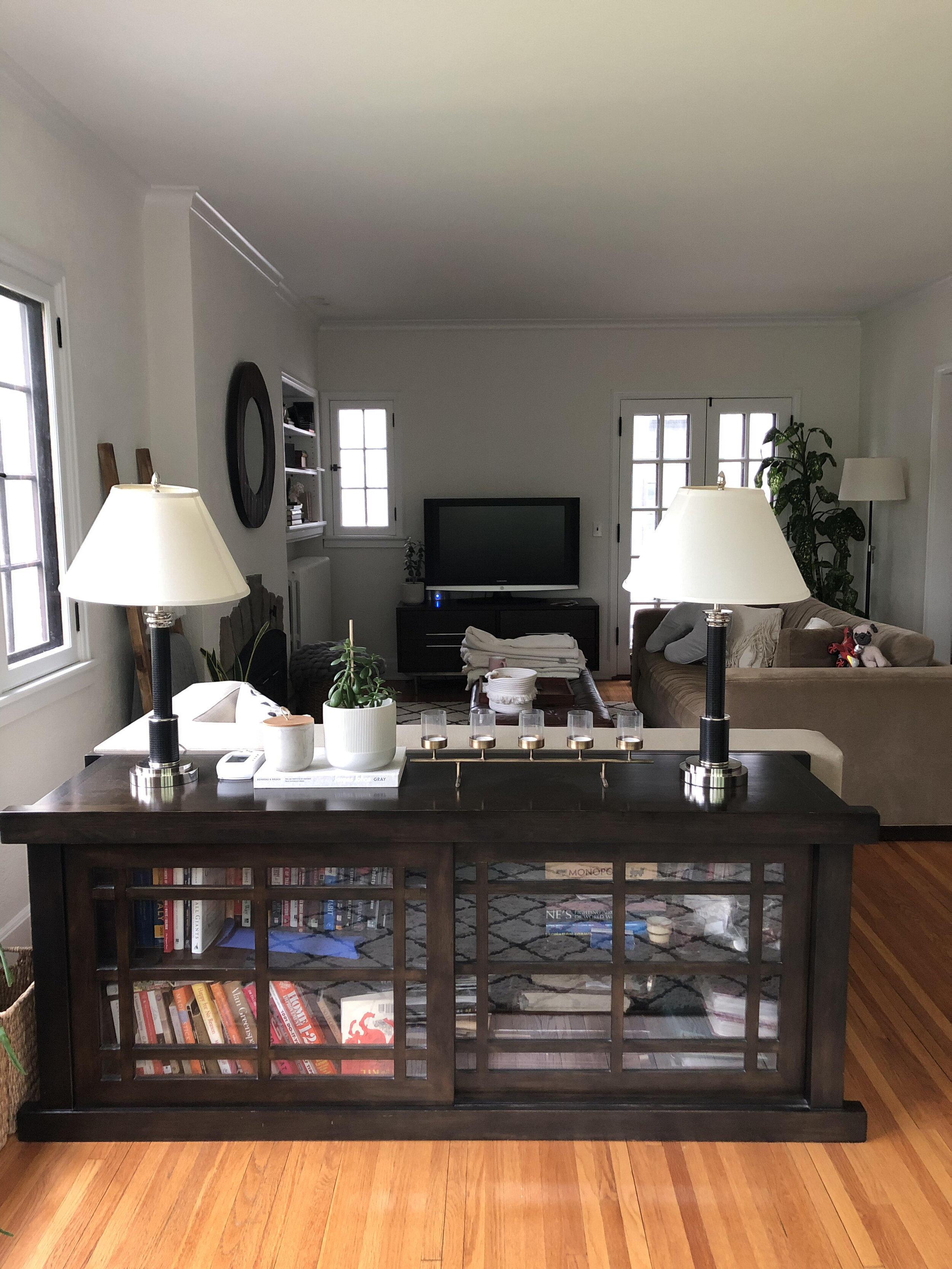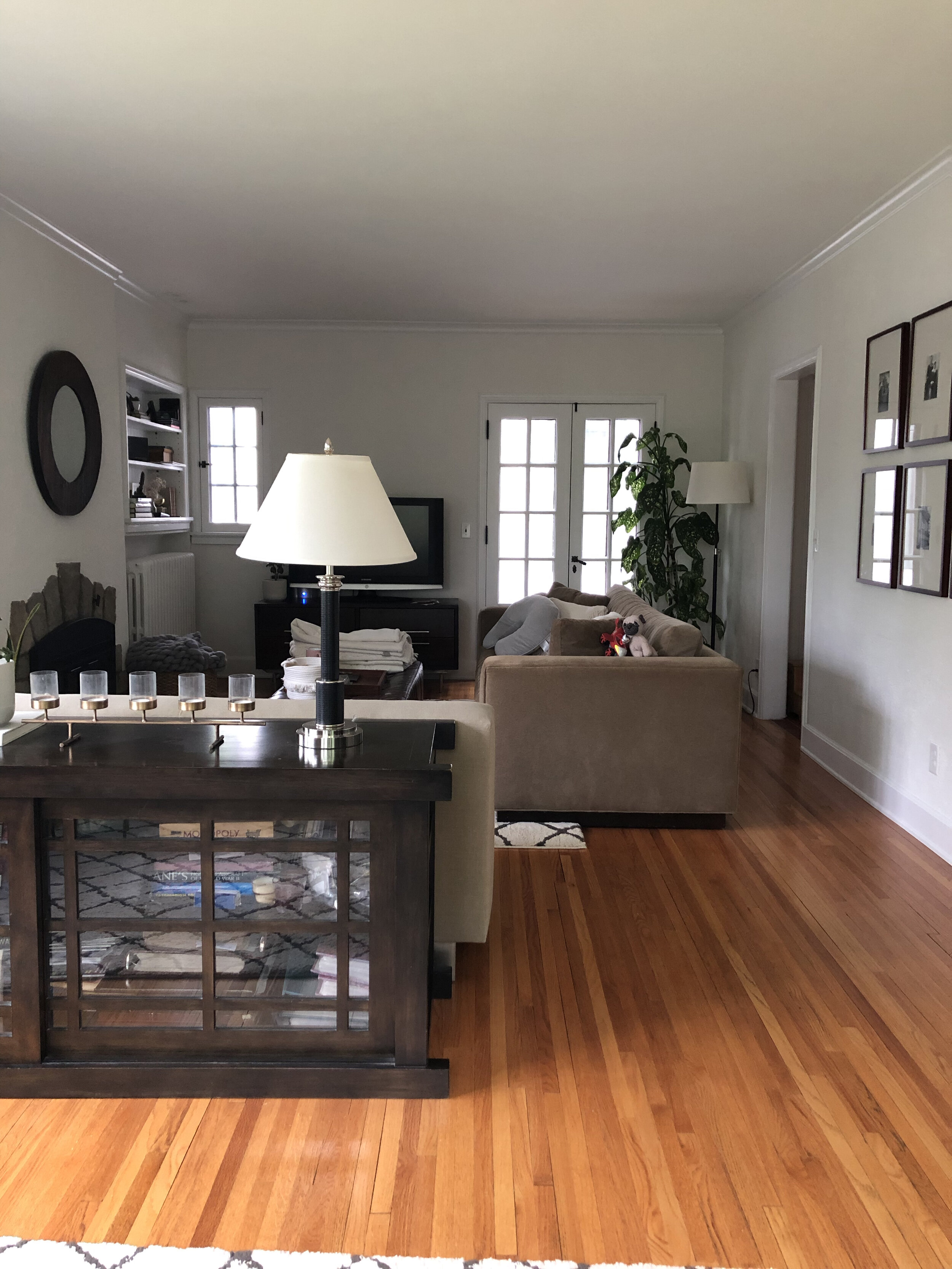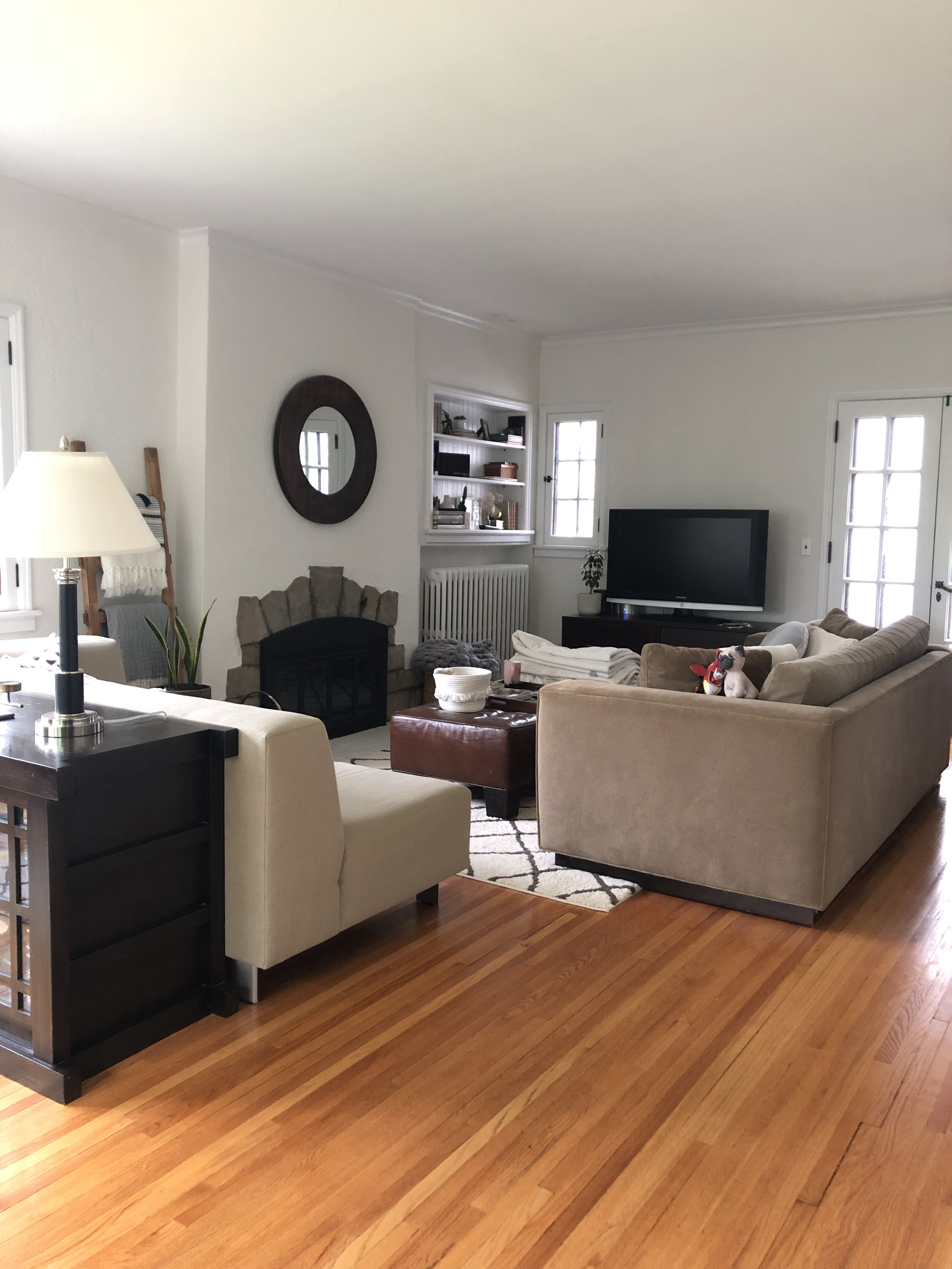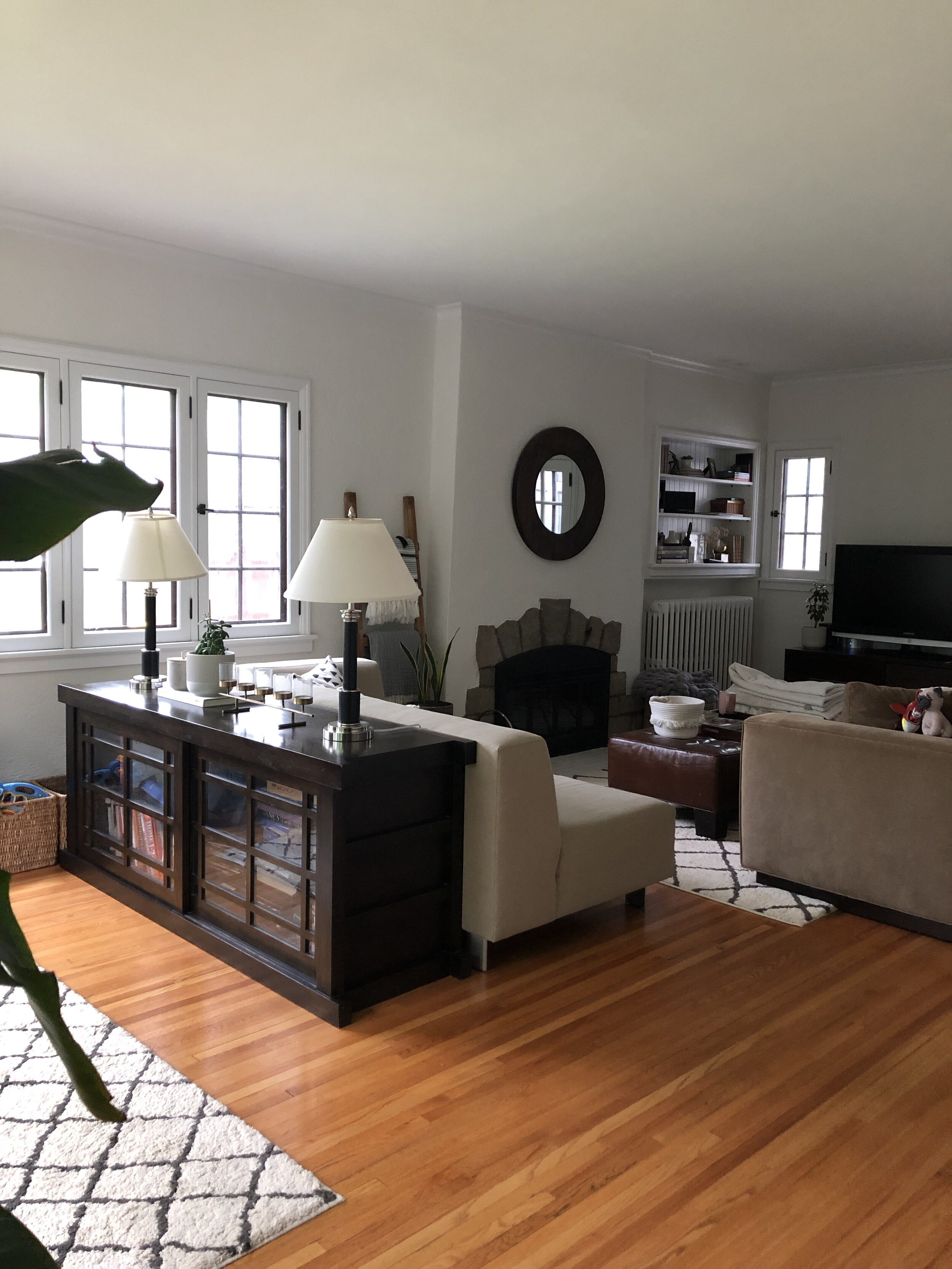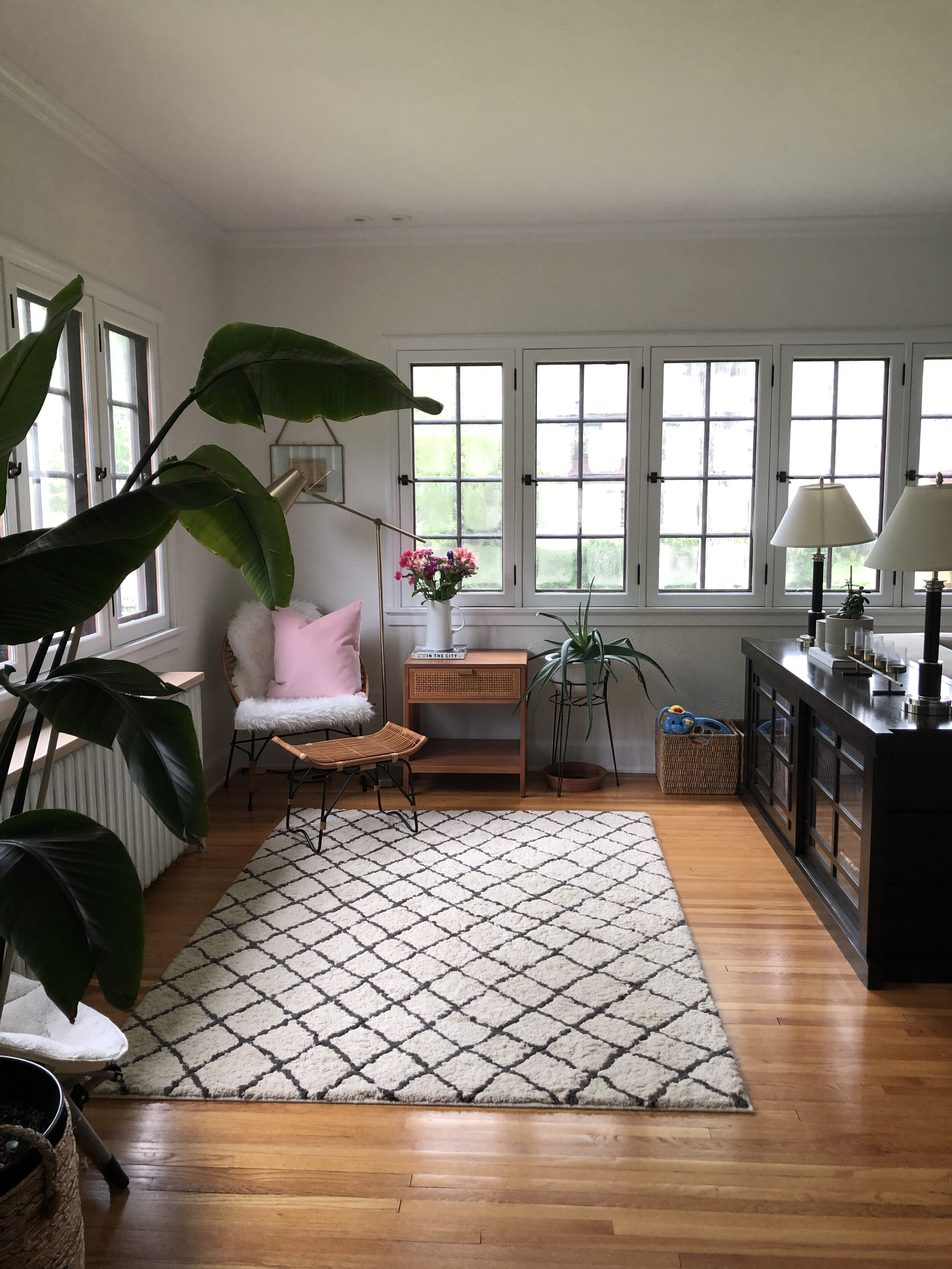 Getting started was super easy!
We answered some questions pertaining to the room we wanted designed, styles we were drawn to and selected the Premium Package. Read about the different packages here.

Once we selected our package, we provided the room dimension and answered a style quiz to help our designer provide the best recommendations.

Then we sat back while they went to work to put everything together and create the 3D renderings.
When the 3D renderings came back, we were beyond impressed! We loved seeing the design options our Modsy interior designer provided and it was what we needed to have a more robust conversation about our plan. With the Premium Package, we received two designs to start from and an unlimited number of free revisions. Here is Design Option 1 to give you a sampling.
Design Option 1: They kept our gallery wall, added window treatments, worked with our existing fireplace to add a faux mantle using a floating shelf, suggested furniture pieces and gave the best recommendation for how to lay out the room. We thought it was a great start and loved the layout! Best of all, it really helped Brian see the full picture.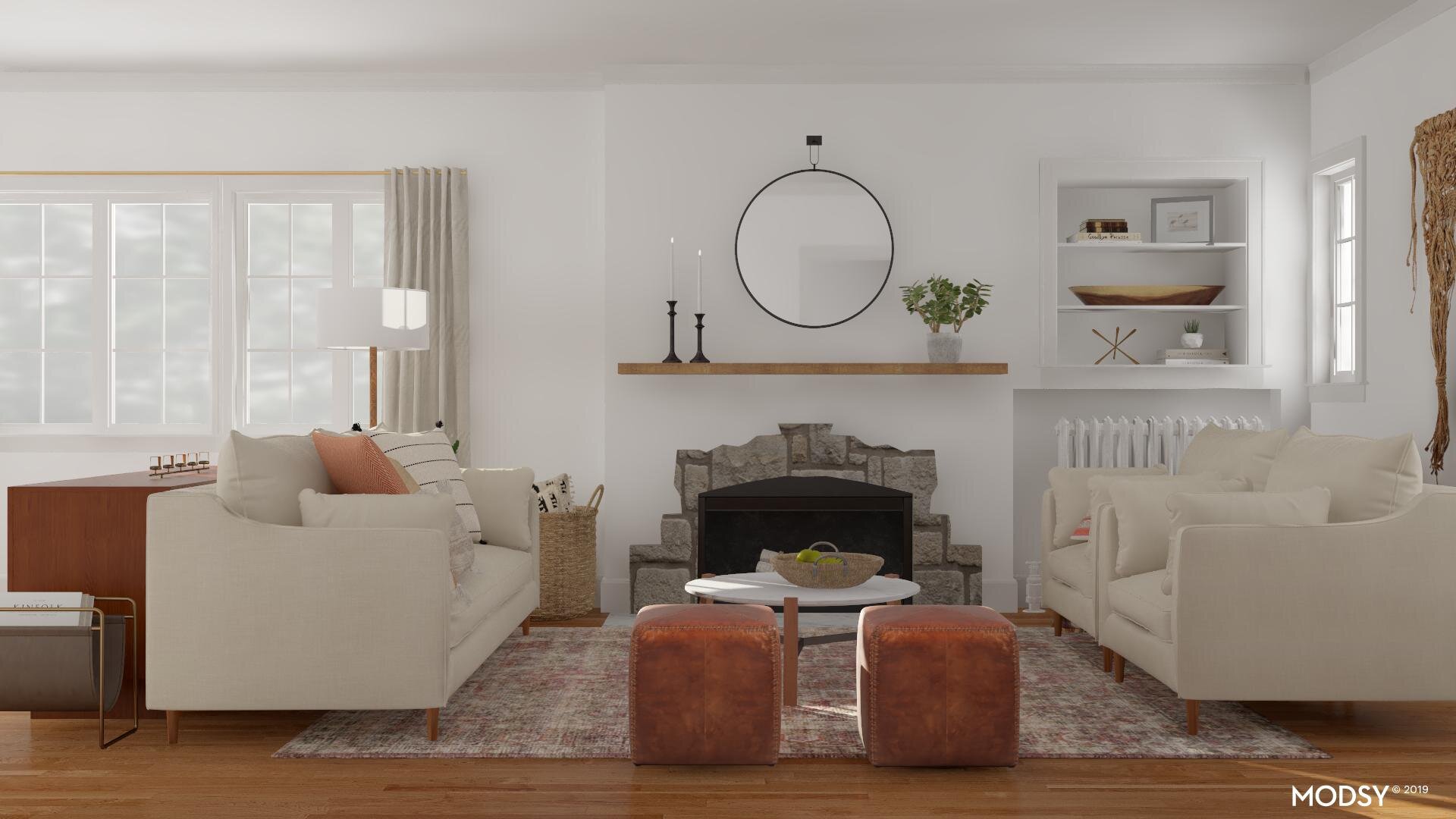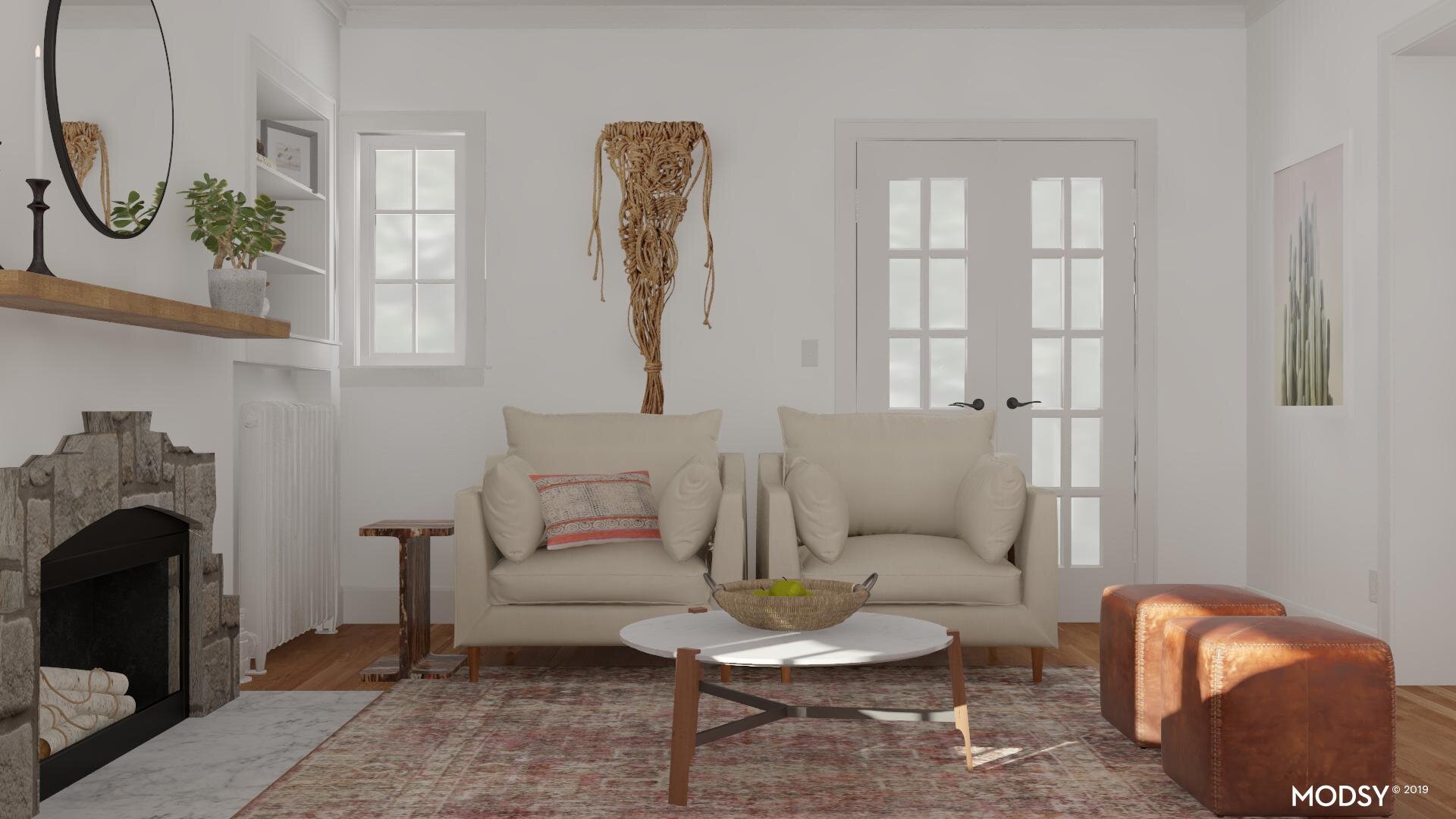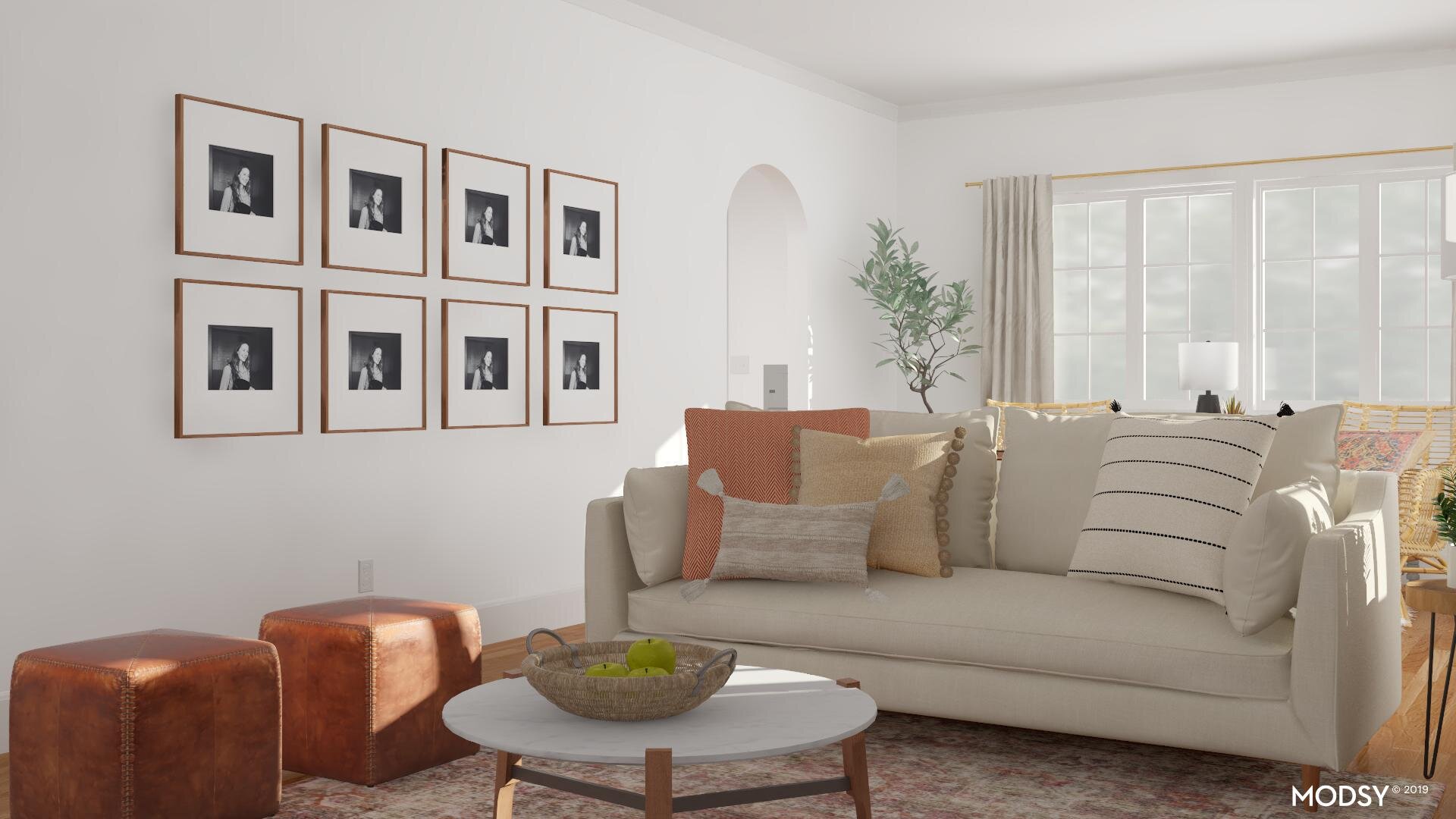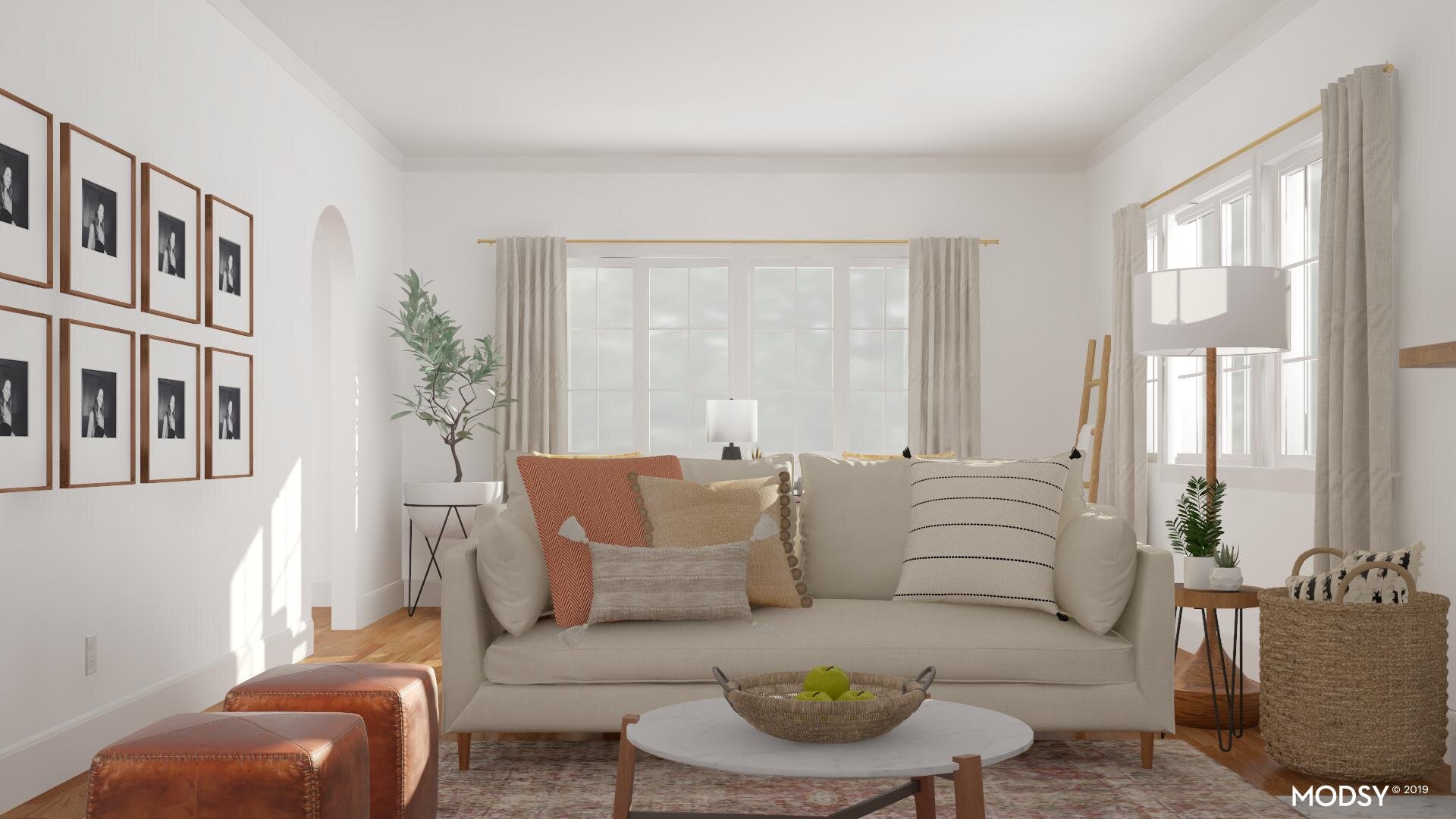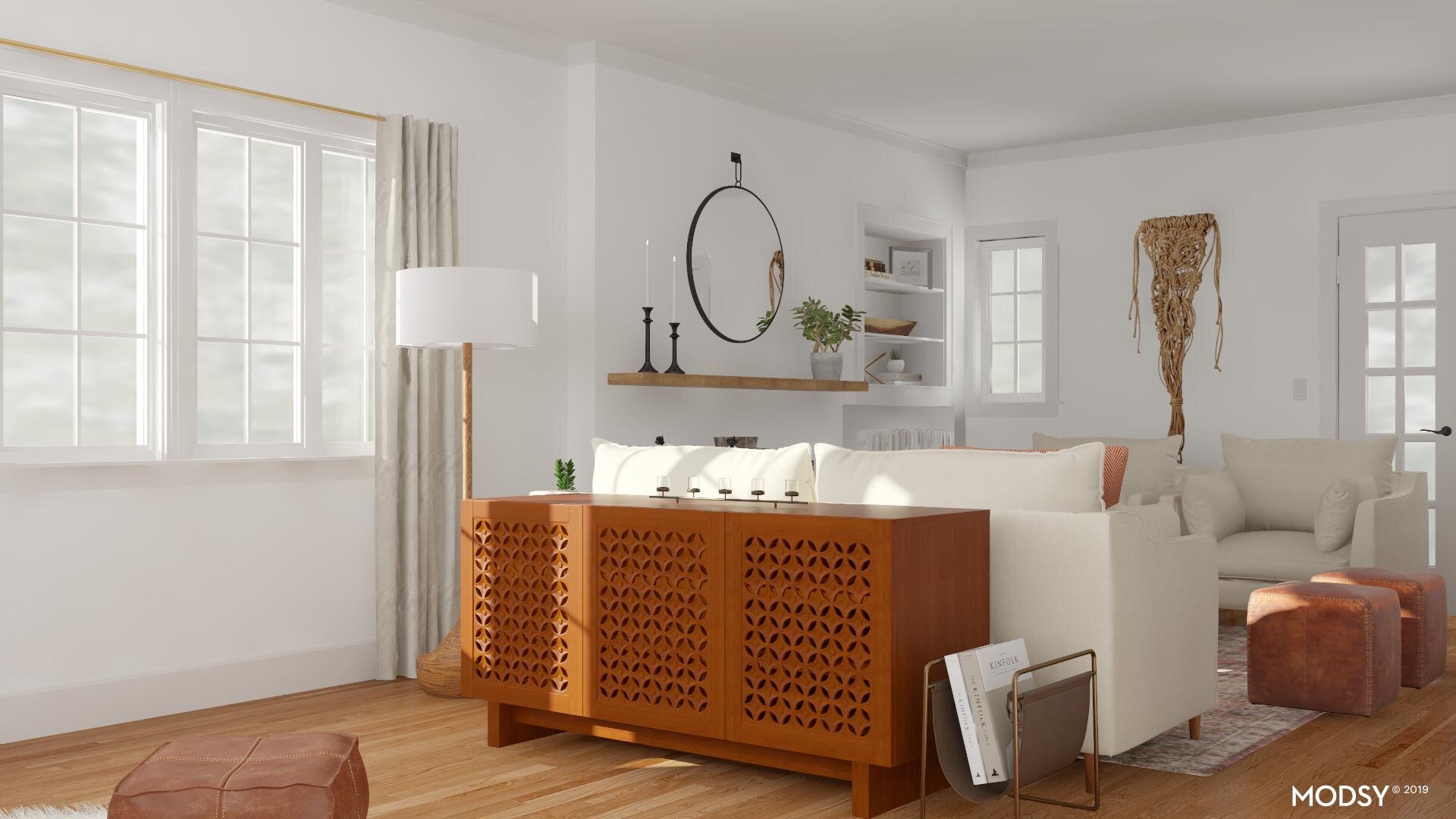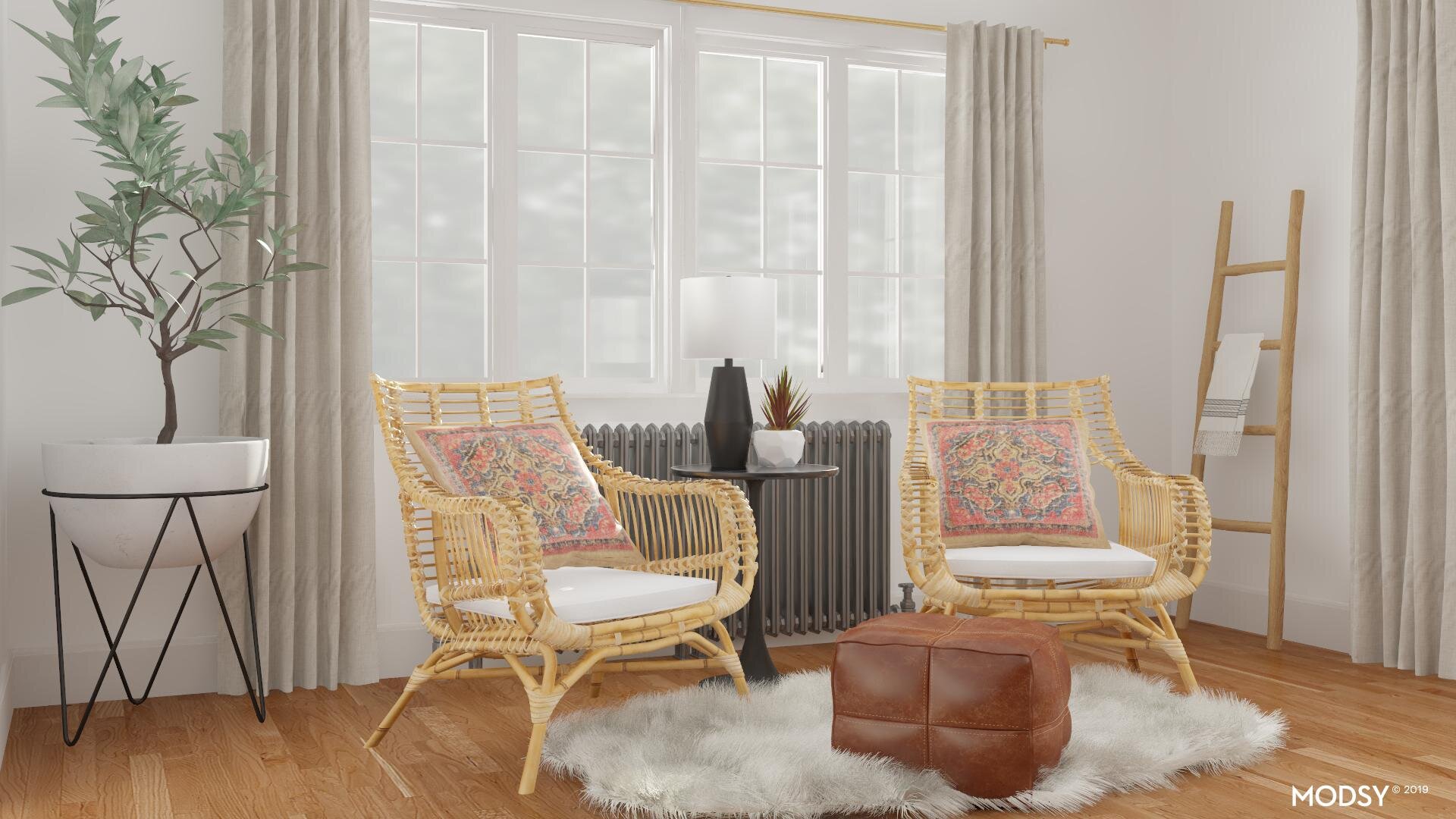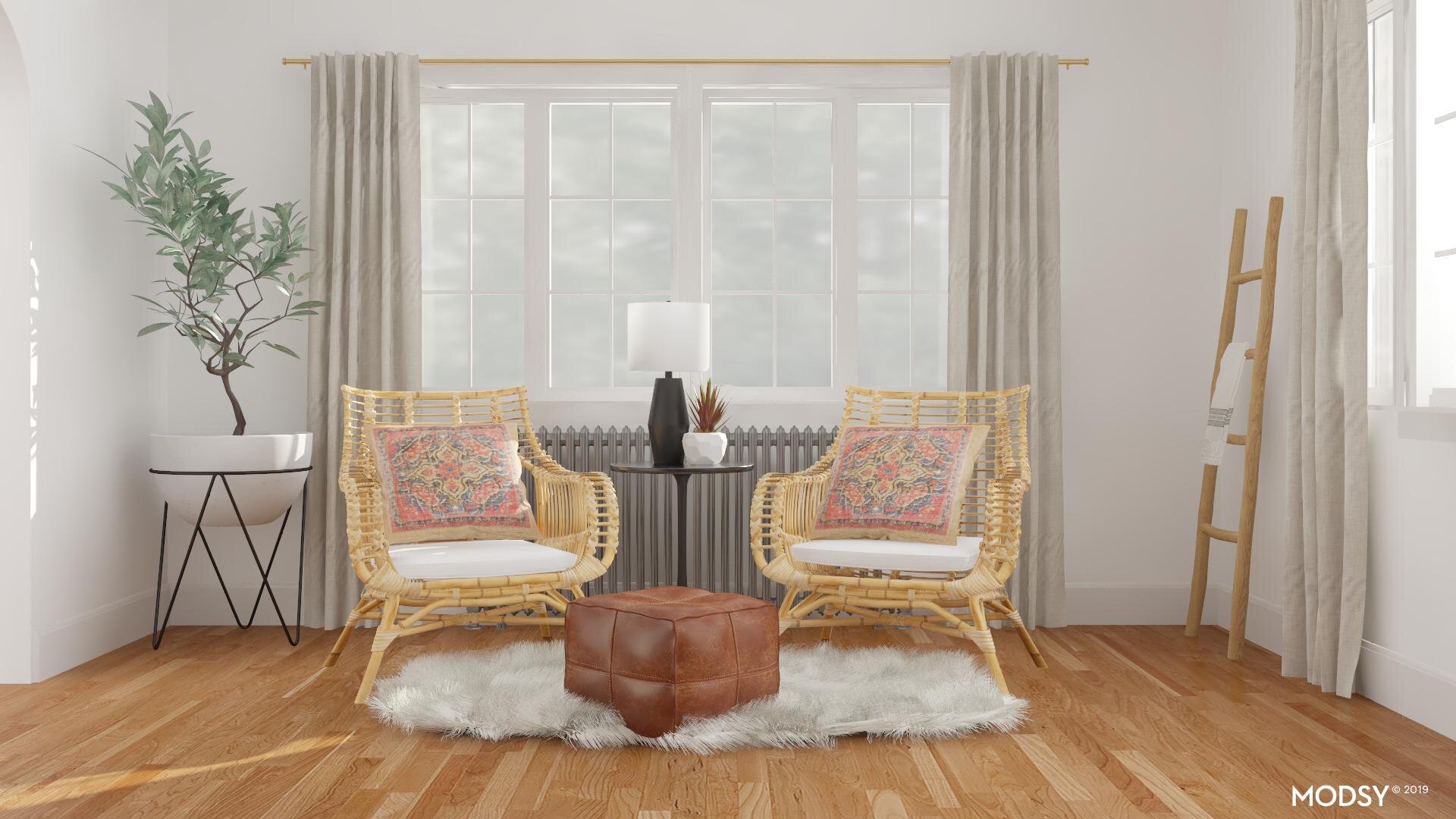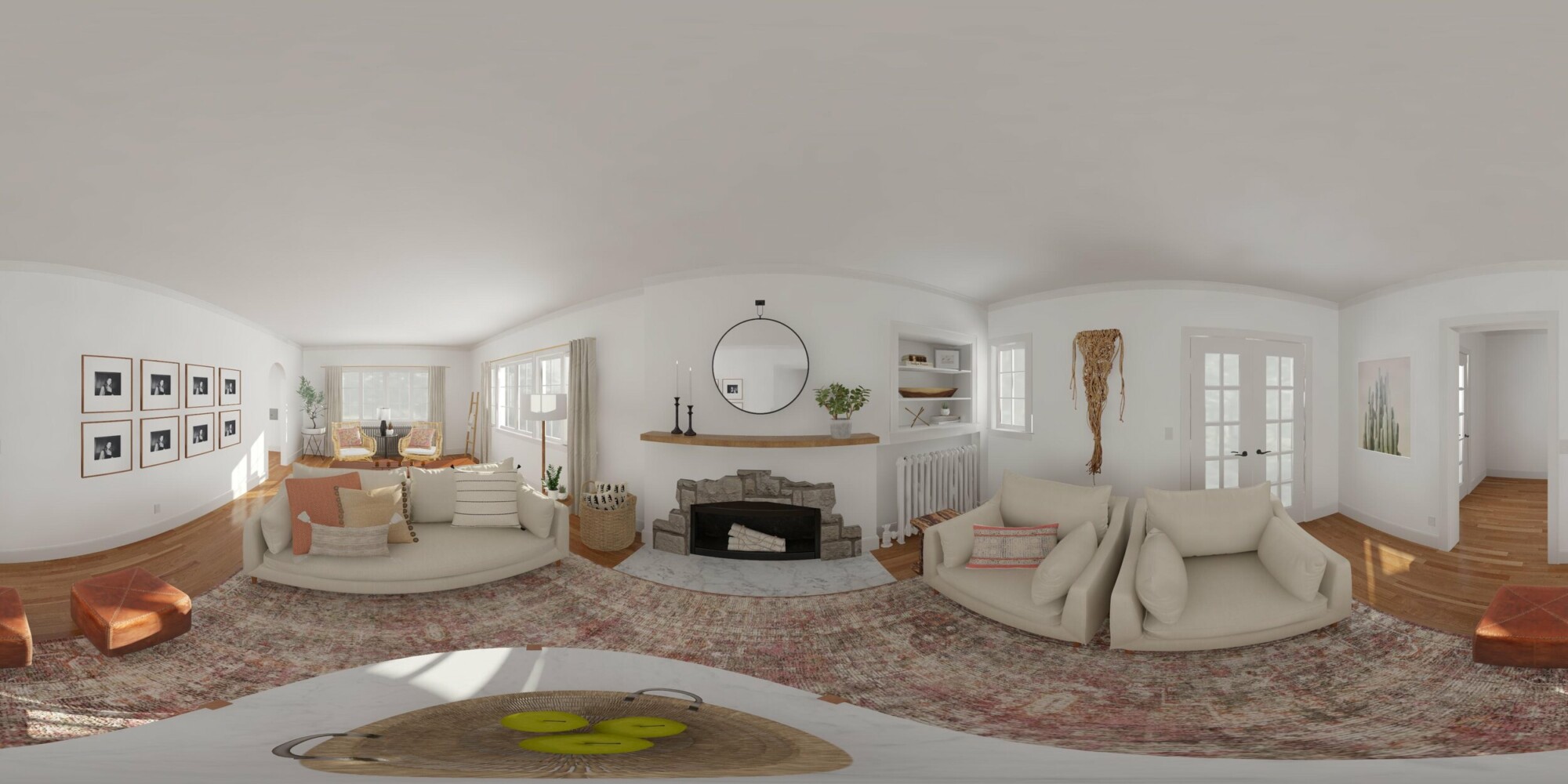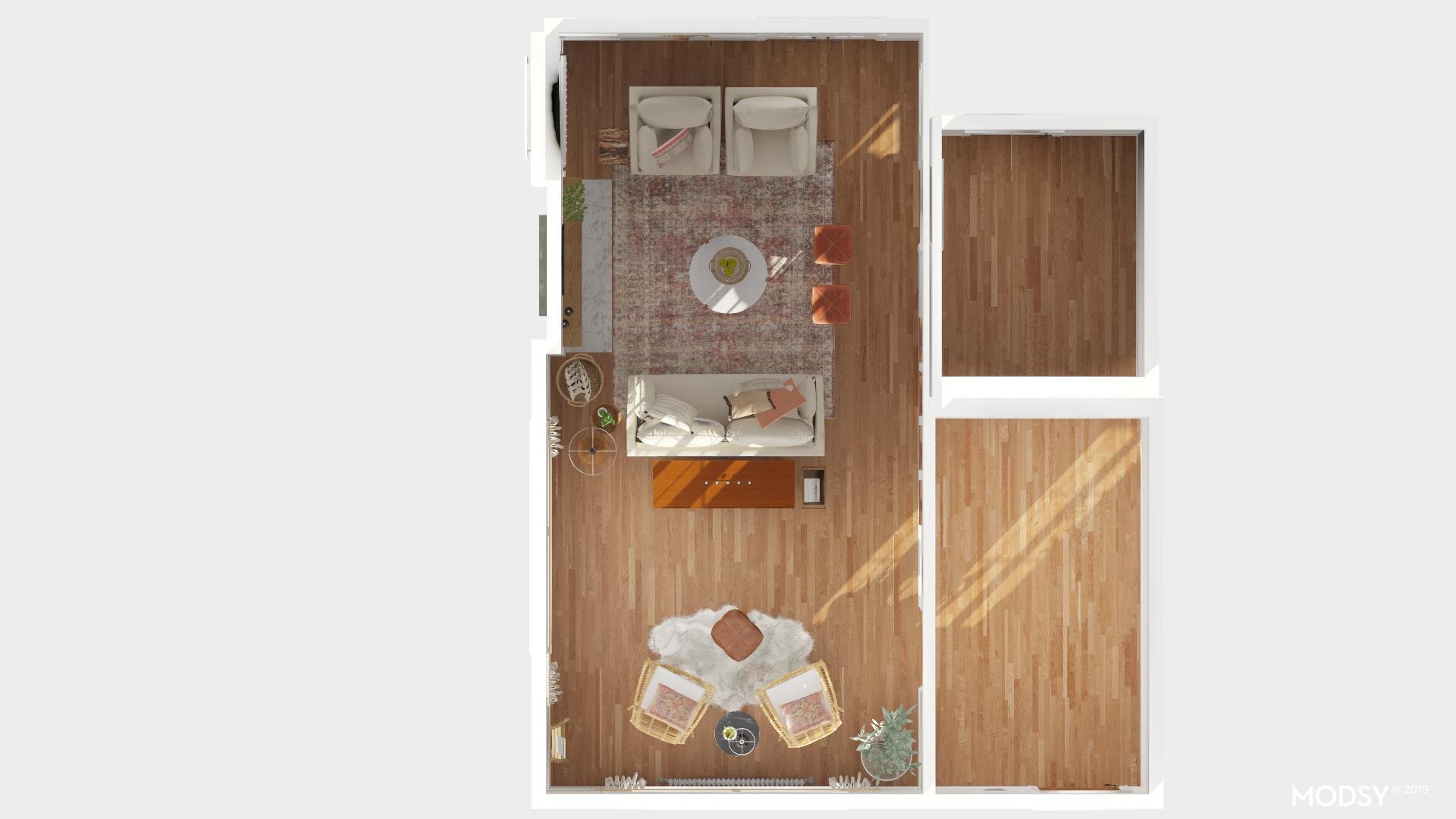 The Winner: After just a few revisions, we landed on something that Brian and I both loved! This version has the right amount of contrast and furniture style that we had in mind. Also, if you've ever seen our kitchen, you'll notice that this design flows well with it. We won't use all of the exact elements that you see here but it definitely gave us great guidance! Make sure to click through the slideshow below to see all the amazing 3D renderings and get the full picture of this space.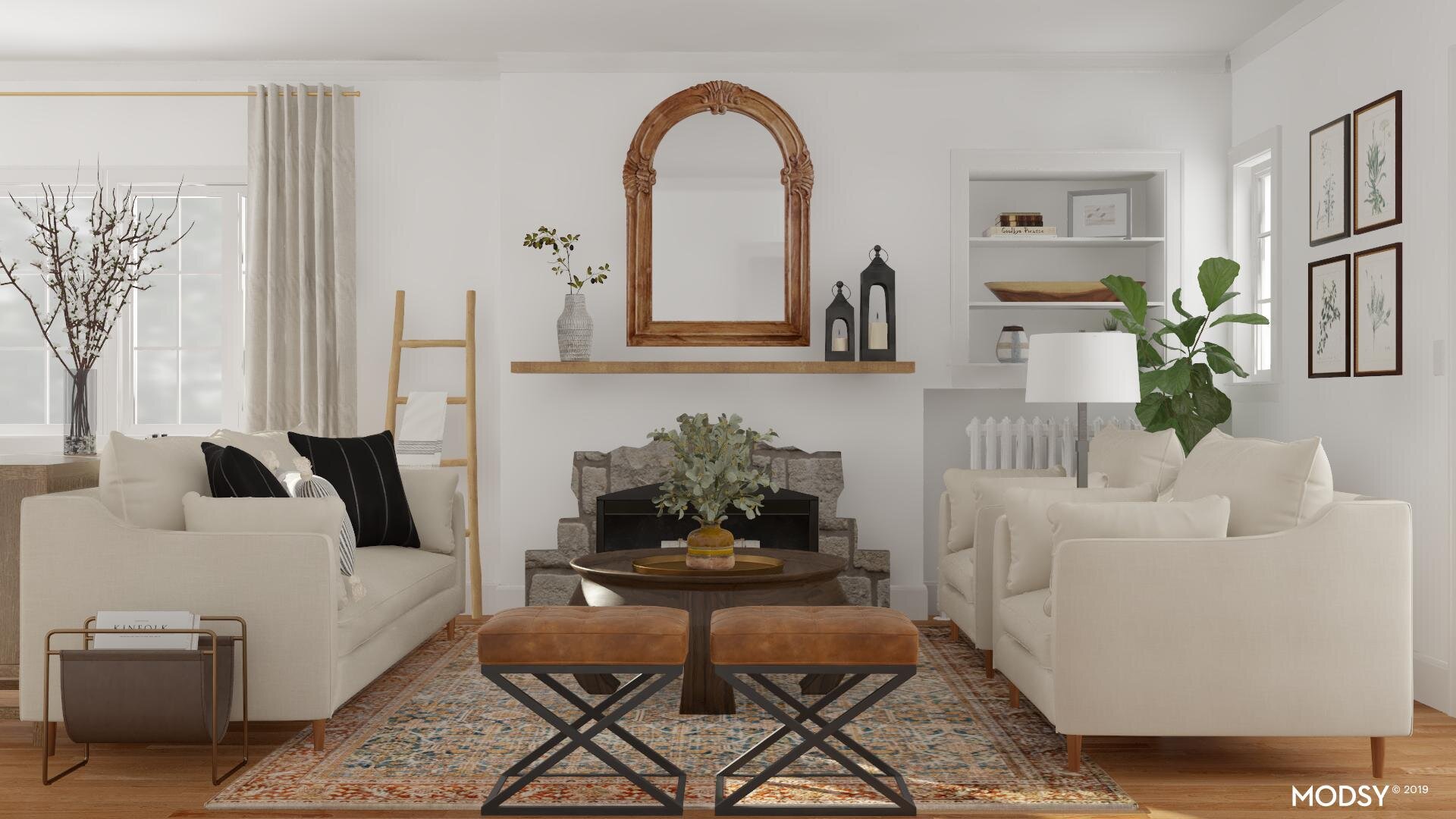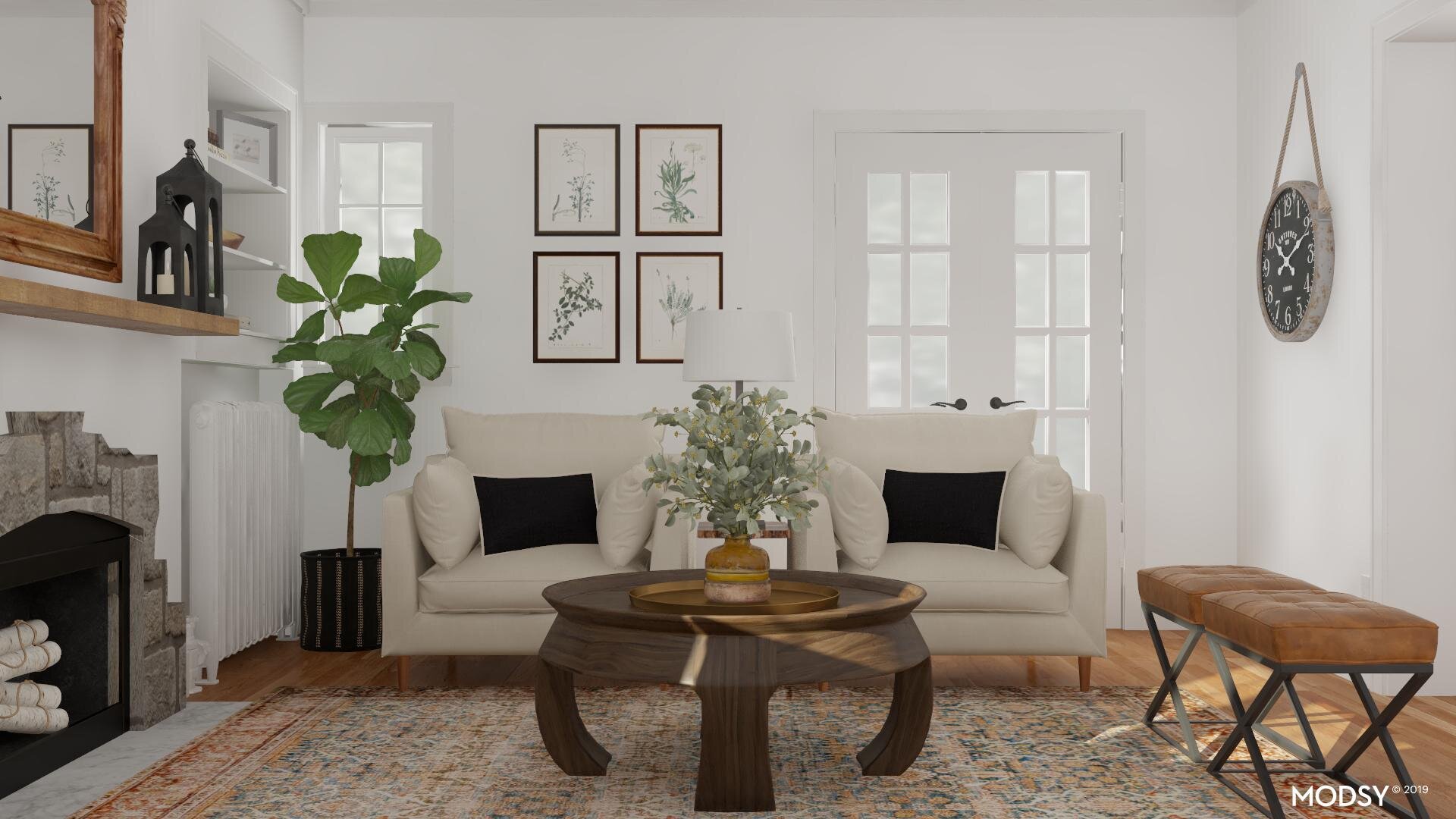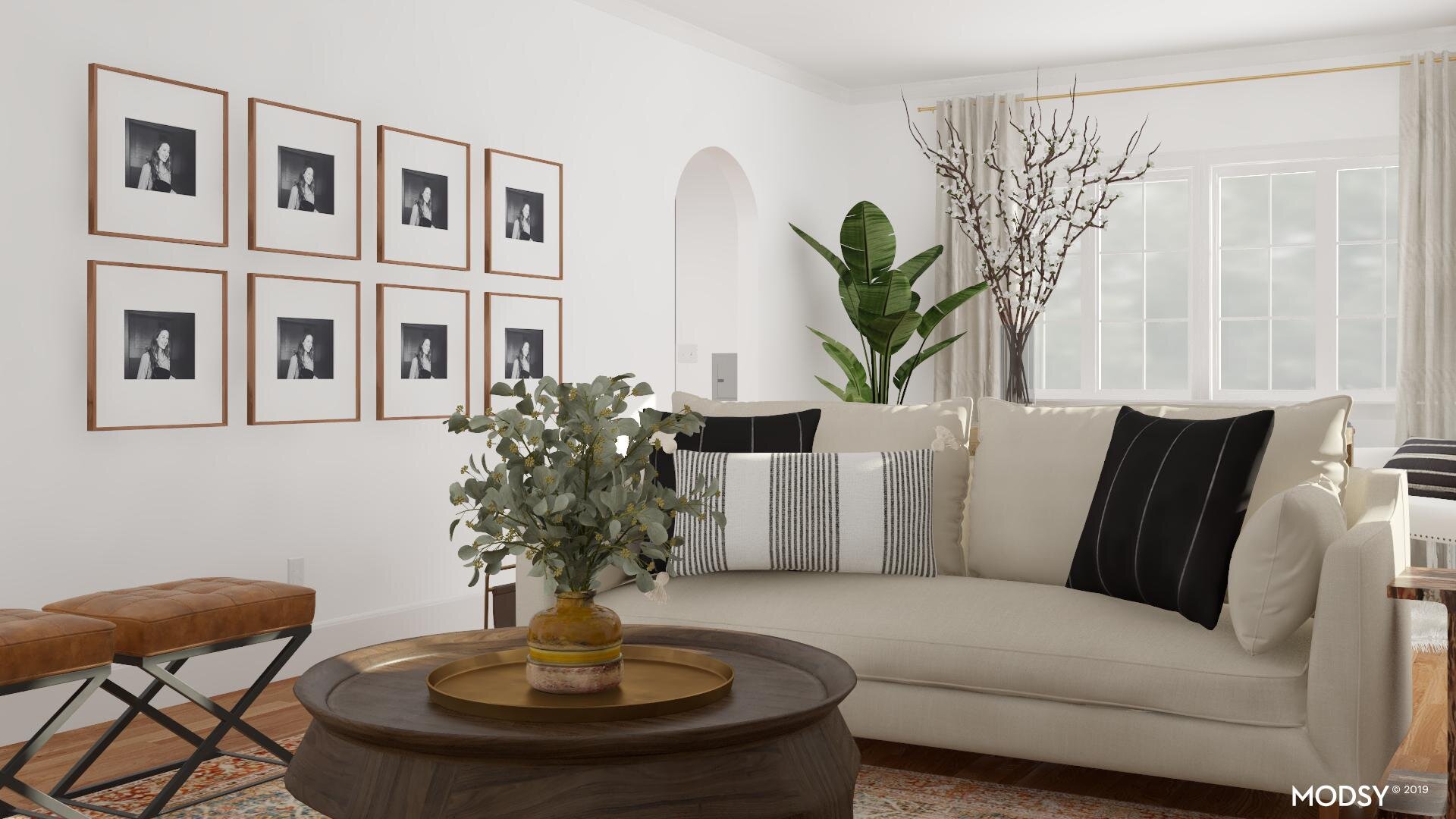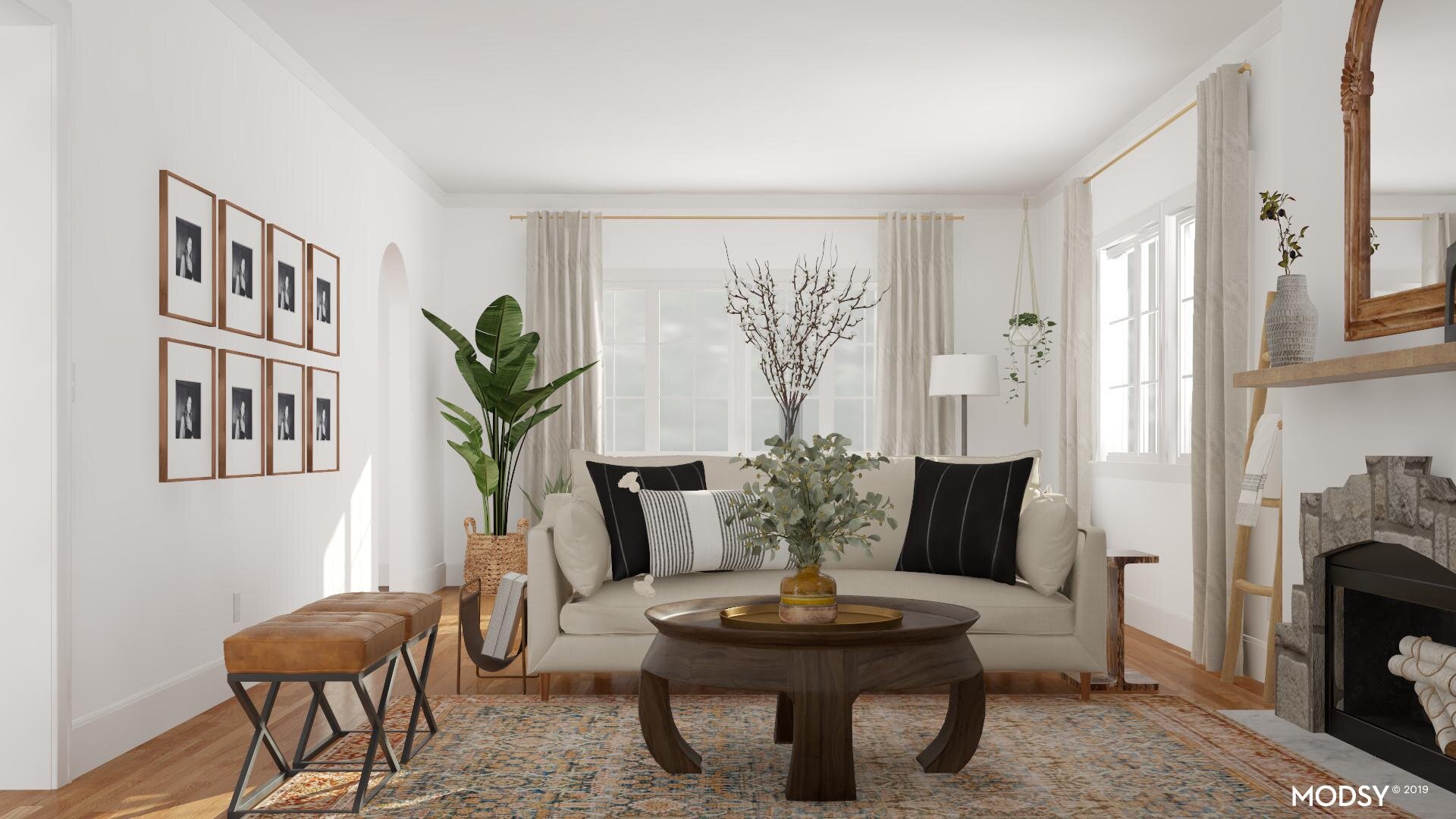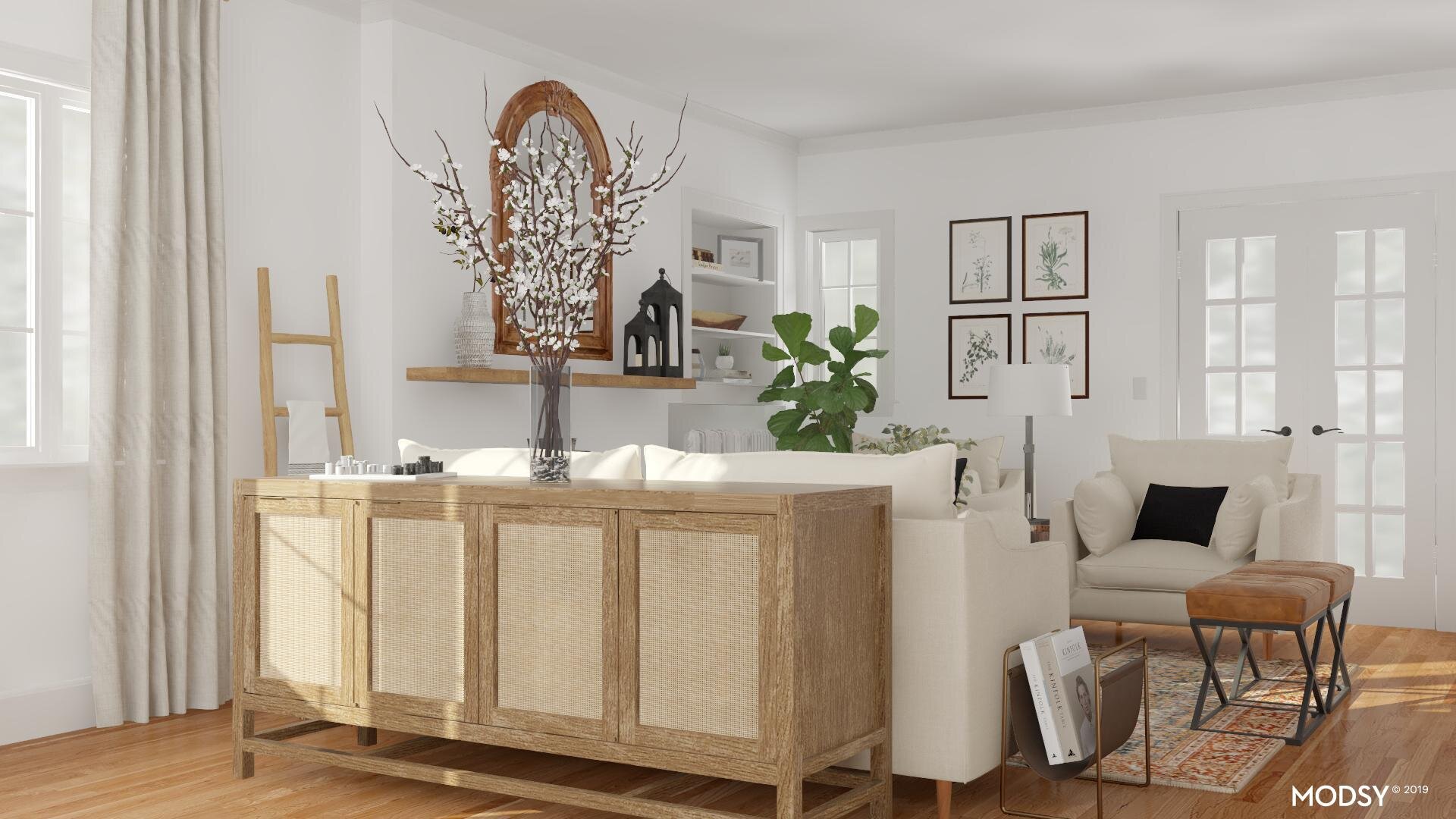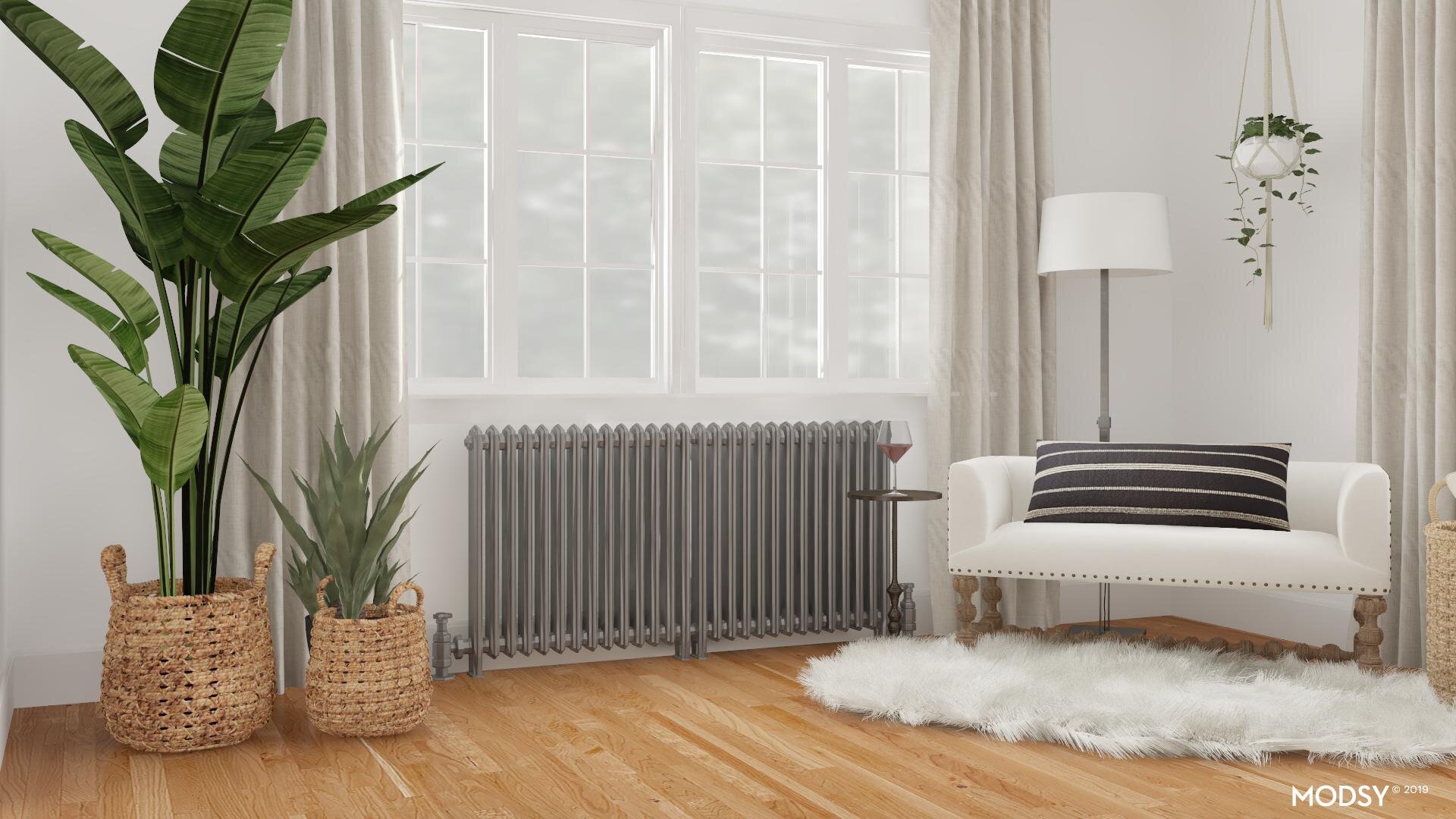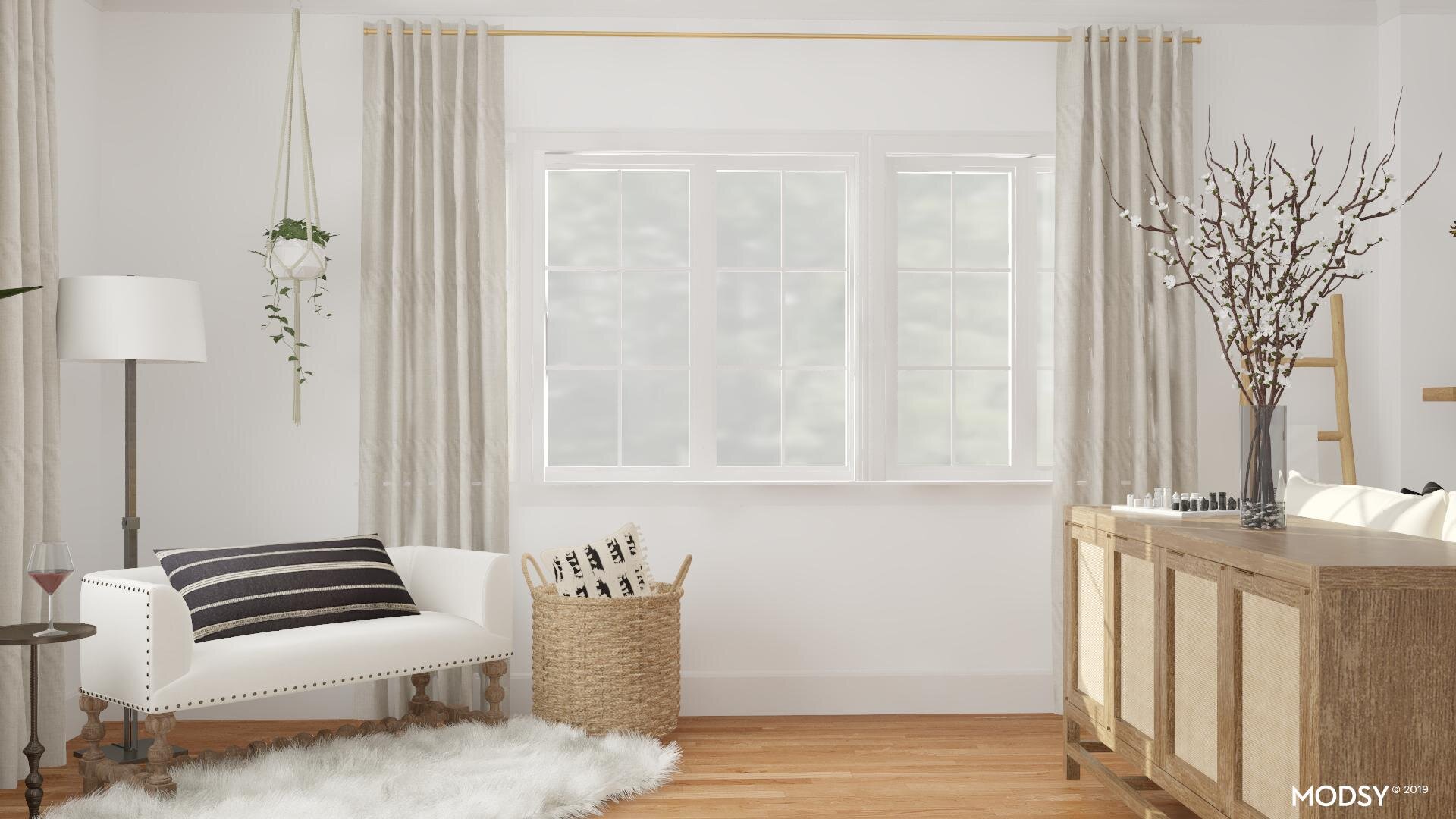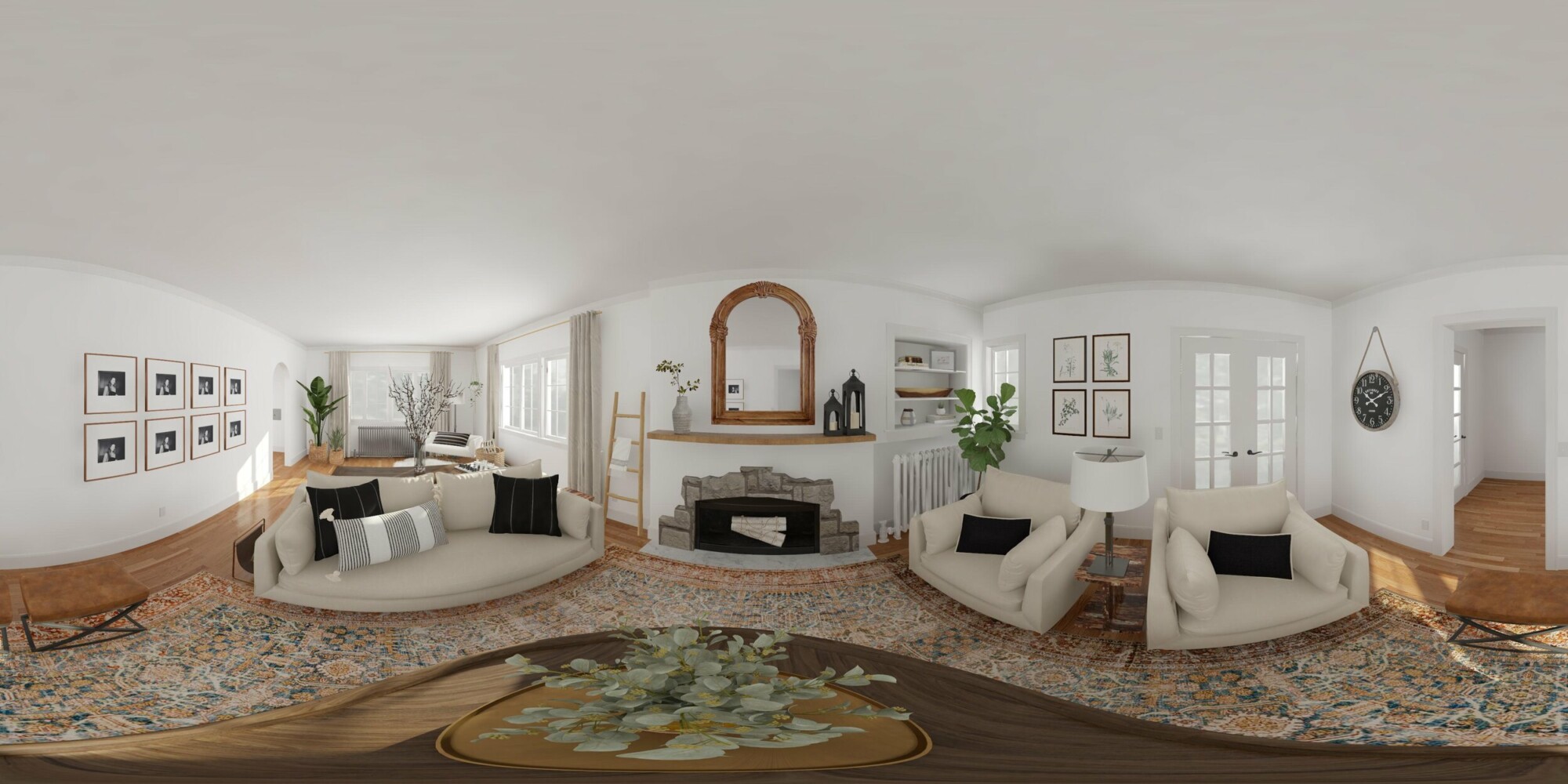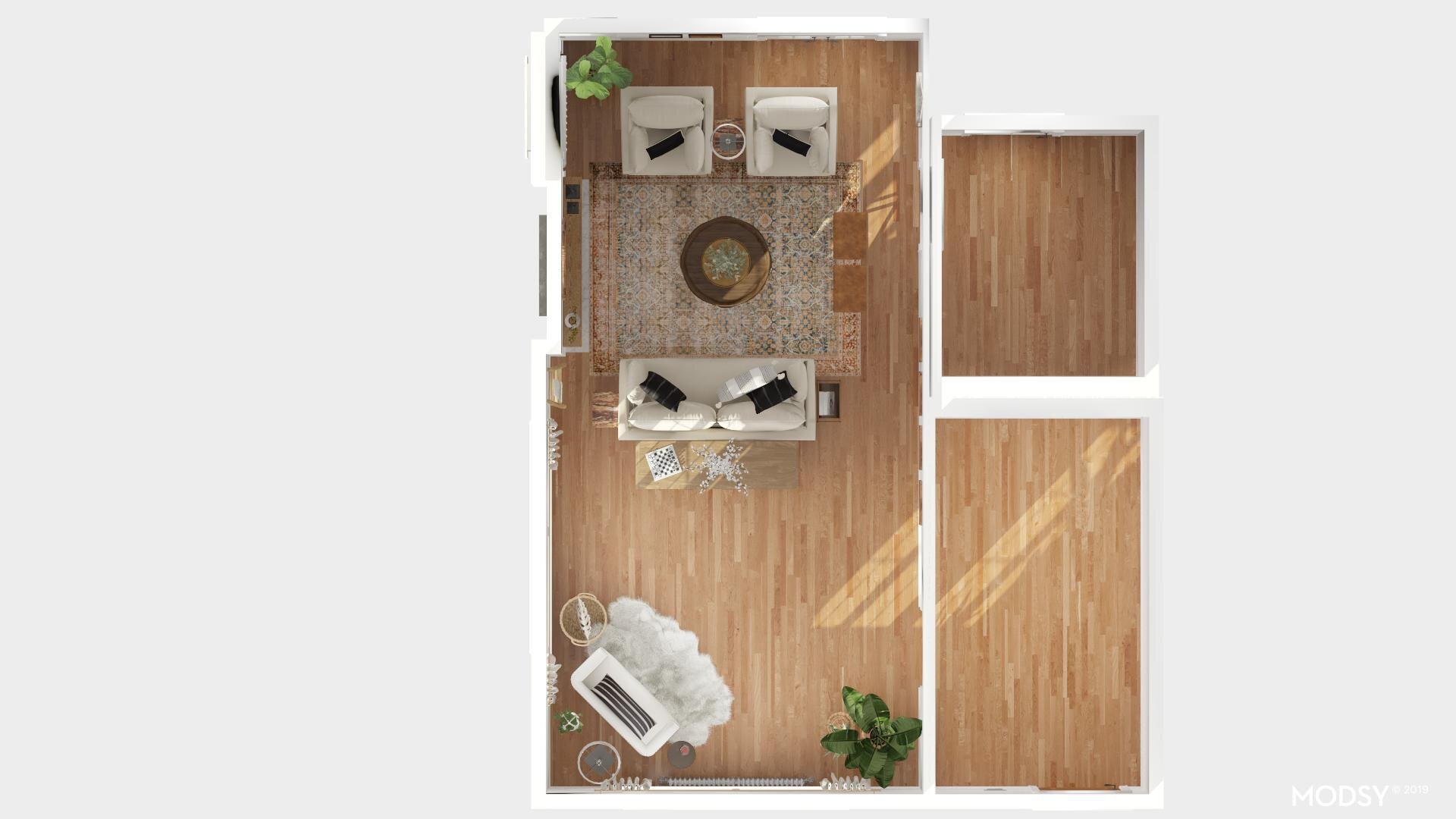 This layout and the furniture selections made our living room feel more spacious! It looks bright and cozy. Just gazing at these renderings make me happy. Can't wait to share more soon IRL!
It was important that Brian and I made the decisions together in order for this space to reflect us both. With the help of Modsy, we are making great progress AND I am so thrilled that they are offering you all a discount! While I do think there is value in using traditional interior designers for certain projects, I also feel that Modsy is an excellent low-cost alternative for those looking to re-do an existing space. I highly recommend them!
Here are some other features that you'll love about Modsy:
Modsy's 3D Style Editor and new Live Swap feature makes it easy and fun to change layouts and furniture in your 3D room anytime. You can also work directly with Modsy Stylist to ensure you land on a design you love.

Modsy makes it easy to shop. Love the items in your design? Click add to cart and they help take care of the rest. You can shop multiple retailers – all from one easy checkout process.
I get lots of direct messages on my Instagram and email asking if I'll do a design consultation or e-design. I wished that I could but with three little kids, my blog and managing our rental properties, it's just not possible. Which is why I'm excited to share my Modsy experience and have you try them out. If you're ready to give your space a facelift, make sure to use code PATTI20 for 20% off design packages (not including Luxe) until 12/1. Happy designing!
Sweetest Regards, Patti